India's Premier Soccer League aims to capture country's imagination

Last updated on .From the section Football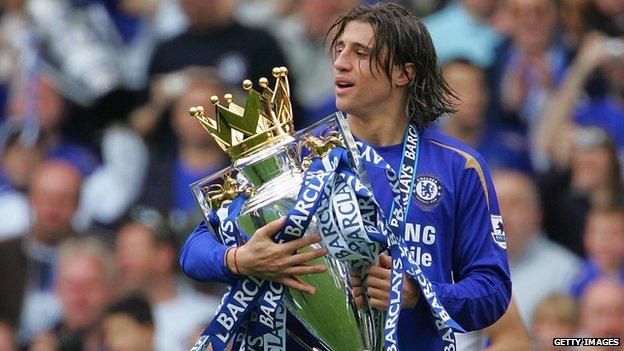 Walk around any Indian city and you will see youngsters wearing Manchester United, Arsenal, Liverpool and Chelsea shirts.
Every weekend millions of young middle class Indians watch their adopted teams on television.
Now in the football-crazy state of West Bengal, which is home to more than 90 million people, a new football league has been launched.
The men behind the Premier Soccer League hope the participation of former Liverpool and England striker Robbie Fowler, along with the likes of Premier League title-winners Robert Pires and Hernan Crespo, plus Italy's World Cup-winning captain Fabio Cannavaro, will give the beautiful game a much-needed boost in the world's largest democracy.
Bhaswar Goswami, the public face of the competition, expects India to clinch World Cup qualification for the first time within the next 10 years. And, when the national team achieve that goal, he wants the whole country to look back and remember the start of the PSL as the day the journey began.
On Monday I was at a five-star hotel in Calcutta where more than £4.4m was spent on 20 international players and five coaches. That may be peanuts in the context of world football but in India it is a significant amount. And there is more to come.
Utpal Ganguly, secretary of the Indian Football Association, told the BBC: "I think that, with no disrespect to the likes of Robbie Fowler, one year of success and you will see bigger names coming here. This is only the beginning."
Manchester United striker Michael Owen and Nicolas Anelka, who recently left Chelsea for Chinese side Shanghai Shenhua, have been linked with an Indian move, as has ex-England manager Sven-Goran Eriksson.
So how will it work? The new six-team league is set to start in March and the season, which has 35 matches, will last for seven weeks. Each club will have an iconic player and a foreign coach, while they are also permitted to field two other foreigners and an Asian player alongside locally produced footballers.
But there is one major problem facing the league - stars from the country's main domestic league, the I-League, are not allowed to take part.
There are also worries whether some of the smaller teams have the infrastructure in place for such a league.
Arunava Chaudhuri, one of those behind Bayern Munich's recent trip to India, feels comparisons between the new league and cricket's money-spinning Indian Premier League are unfair.
He said: "As this is a regional league it is wrong to compare it with the IPL.
"The players will have to live in areas like Silliguri and Durgapur where the hotels and other facilities will not be up to the international standards they are used to."
The concerns of Chaudhuri are also shared by respected Indian sports writer Arvind Basu. He added: "If the teams just spend money on ageing international stars and not on local infrastructure then Indian football will not benefit."
Even though cricket is India's national sport, there is also huge passion for football in areas like West Bengal, Goa and Kerala.
The Calcutta Derby between East Bengal and Mohun Bagan regularly attracts crowds of over 90,000. It even has an impact on the price of food - if Mohun Bagan win the price of prawns goes up as the club's fans buy in bulk to celebrate. If East Bengal triumph it's the price of Hilsha - a local fish - that rises.
India was also asked to play in the 1950 World Cup but the footballers pulled out after their request to play in bare feet was declined.
So it begs one burning question. Can Fowler, Pires, Crespo and Cannavaro help football conquer what some have described as its final frontier?
With the global coverage it has received, the league has already helped put India on the football map. Though whether that is as a football destination or as a football-playing country remains to be seen.
Indian football is beginning a new chapter but like all good stories no-one knows how it is going to end.