Mick McCarthy understands fans' anger after Liverpool defeat
Last updated on .From the section Football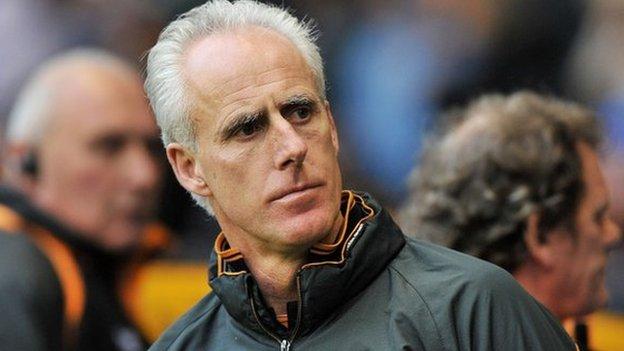 Mick McCarthy insists he "fully understood" the anger of Wolves fans after the 3-0 home defeat to Liverpool.
The team were jeered off and a "Mac Out" banner was unfurled.
Wolves are 19th in the table after their seventh Premier League home defeat of the season and face QPR and West Brom in their next two matches.
McCarthy said: "It's fully understood. The last 35 minutes was unacceptable. There isn't a magic formula to pick them up but we'll be working hard."
When asked whether he would fight on, McCarthy, who took over at Molineux in 2006, added: "Of course, yes."
McCarthy took the blame for the emphatic nature of his team's defeat to Liverpool, who won thanks to second-half goals from Andy Carroll, Craig Bellamy and Dirk Kuyt.
He claimed his attempts to chase the game left Wolves wide open and that his players were deflated by Carroll's opening goal.
McCarthy, who signed Tottenham's Sebastien Bassong on loan until the end of the season before the transfer deadline, also insisted that goalkeeper Wayne Hennessey should not be blamed for allowing Bellamy's shot to squirm in.
He added: "I think he was unsighted and there's no blame attached to Wayne Hennessey. I thought he was brilliant.
"The fact that we looked like we were getting a real chasing was my fault.
"It looked like the players weren't trying but I'm not having that said by anybody because they're a great bunch of lads and they work hard for the club, for me and the shape I put the team, playing against a good Liverpool side, was making it difficult.
"But to keep it at 4-5-1 and lose 2-0, that would have been unacceptable as well so I take the blame for that last 35 minutes."