Former chairman Alastair Johnston delivers Rangers cash warning
Last updated on .From the section Football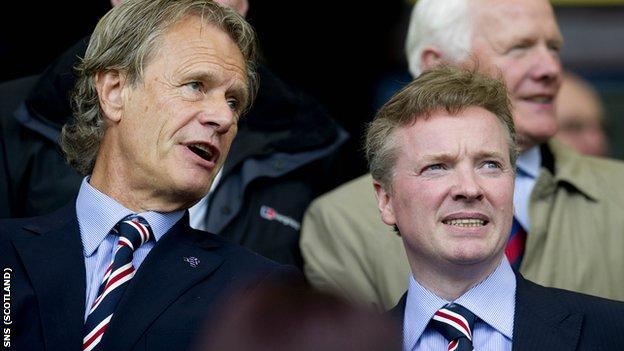 Former Rangers chairman Alastair Johnston fears further damaging revelations about the Scottish champions' finances.
And he has urged the club's fans to demand answers about the current position from owner Craig Whyte.
Johnston was speaking to BBC Scotland after Whyte denied claims he used future ticket sales to finance his takeover of the club last year.
"Where's the money gone? Is the debt really £42m now?" Johnston said.
Whyte had continued the previous administration's practice of using a company called Ticketus to receive a portion of ticket sales in advance to improve short-term cash flow.
But Johnston fears that the new owner has used the practise to the kind of extent that previously left Leeds United and other clubs in dire financial straits.
"In the past, Rangers would never probably borrow or take credit for more than £5m," he said.
"In this instance, it would appear from the evidence presented, which he has acknowledged, is that he has mortgaged or securitised the fans' season ticket revenue that he expects to earn from season tickets over the next three to four years.
"That means that this money is being used as long-term financing. Either that or it has been deployed already for expenditures that only Mr Whyte would know about.
"But, as far as the amount is concerned, £5m as opposed to £24m or £25m is a significant difference."
Johnston said he must take Whyte on his word that he did not use any of the money from Ticketus to pay the £18m debt to Lloyds Bank as part of his takeover.
"So the club should at this moment in time be £42m is debt. Is that correct?" he asked.
"What is the issue with respect to administration? Who is the secured creditor?
"It would be difficult for me to understand if Ticketus, in lending this money to Rangers, didn't request and get a secured position?
"In the event of administration, is it a finance company like Ticketus that is going to determine the destiny of Rangers Football Club?"
Johnston explained that the latest claims about Rangers finances emerged following an investigation by the HMRC tax authority into VAT payments relating to the takeover.
"I speak with some degree of knowledge and, put it this way, I am not comfortable that there won't be further revelations," he said.
"If the debt has been borrowed and the money is being used today, what's our source of revenue going to be three years from now?
"How is the team going to be revived and recycled and rejuvenated if the primary source of revenue, which is season ticket sales, has already been coralled?
"Today the manager and the team do not have the resources that I believe year on year, on a sustainable basis, can be competitive.
"I don't think anyone in their right mind should be happy with the way things are going."
Johnston's remarks came as Whyte admitted he had to sell top scorer Nikica Jelavic to Everton on transfer deadline day because of the club's financial position.
Whyte had responded to the latest claims by suggesting that the old board, who had expressed reservations to previous owner Sir David Murray about the takeover, had been "all talk and no action".
However, Johnston said that, at the time of Whyte's takeover, their auditors had no fears that Lloyds Bank would put the club into administration.
"They realised that we had actually brought the debt down by about £16m - £25m when you consider outstanding money we owed on players," said the former chairman.
"At £18m level, we were way ahead of getting to where it was a working relationship with the bank.
"We were looking at reducing the debt by £1m or £2m but looking at a working debt of £16m that we could handle under any circumstances with the cash flow of the club.
"By the time Mr Whyte got around to making up his mind, or accessing the funds, to do it, the bank were pretty happy with the club.
"But, having said that, with the opportunity to cash out and get out of it and the fact that it was a corporate mandate from Lloyds Bank, the idea of getting their £18m and running was pretty attractive to them and that's why they were supportive of and more than persuasive in terms of getting this deal done.
"All the negotiations with Mr Whyte pertaining to the transfer of shares and the material provisions of that particular document were conducted and negotiated by Murray International and their representatives.
"And they were the ones that basically testified to us that they were happy that they had seen funds that were in place and were going to proceed with the transaction."