Swansea's Ferrie Bodde requires surgery after further knee injury
Last updated on .From the section Football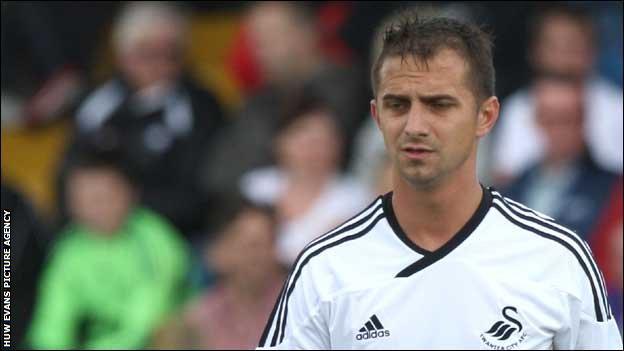 Swansea midfielder Ferrie Bodde is set to undergo surgery because of knee ligament damage.
The Dutchman, 29, injured his right knee after two minutes of Wednesday's 0-2 home defeat to Arsenal reserves.
Bodde was only just approaching full fitness after a long-term injury to his left knee that required two surgeries.
Swansea say the full extent of the injury will not be known until the swelling has subsided but Bodde will go under the knife in three to four weeks.
Club chairman Huw Jenkins said the Premier League side would continue to support Bodde.
"It's obviously very disappointing news. Forgetting us as a club, for him as an individual it's something that none of us wanted to hear," Jenkins said.
"Will he play again? That's the question that's been asked over the last few years but he's fought his way back. He gets a lot of support and help off the club.
"No doubt initially he was quite devastated with the news, but over time again it's a matter of getting surgery done and getting back on the road to recovery.
"Let's hope he can get used to this idea so he can focus on his recovery.
"We'll provide Ferrie with as much support and help as we can but ultimately it's down to Ferrie and the way he can get over this further setback and move forward again."
Swansea manager Brendan Rodgers said that the latest injury set-back is a huge blow for the midfielder.
"It was devastating for him. We've sent him to Holland... to be with his family," Rodgers said.
"It [the rehabilitation] has been a real long journey for him... he was back into training and working very well and had then started to be involved in games.
"So for him to actually play last night and then after a couple of minutes damage his other knee.
"There's a lot of swelling around his knee, so we can't have any scans of that yet. But Glen Driscoll, our head of performance, has gone out to Holland with him.
"He's a terrific guy and I feel so, so sad for him and disappointed."
Bodde, 29, has played just four first-team games since November 2008 because of ongoing injury problems.
Bodde suffered his first cruciate ligament injury in his left knee more than three years ago during Swansea's 3-2 home defeat to Birmingham City.
A subsequent operation kept him out for 10 months before he made his first comeback against Sheffield United in September 2009.
But he was replaced by Lee Trundle after just nine minutes of that 2-1 home win after hearing something "click" in his knee.
"The club have been brilliant for Ferrie, we've given him all the time and all the support; we've brought in every possible resource that we can to try and help him," Rodgers added.
"It's so disappointing that when it looked like he was back on the mend, that he's now injured - potentially - his other knee [as badly].
"It's something we'll be able to comment on more in a few days, but obviously I'm devastated for him.
Bodde's last first-team game was Swansea's 1-0 win over Peterborough in February 2010 but he lasted just 28 minutes before limping off with a recurrence of his original knee problem.
While Rodgers is hoping for the best news for Bodde once medical scans can take place, the Swansea boss admits the possibility that the injury could be serious.
"If you have injuries that are career-threatening then you need to weigh up a number of things: you weigh up your health because that's the most important item in it all," Rodgers said.
"Football's a very short career and you want to ensure that your life with your family, you can still run about with your kids and he's got a wonderful family, Ferrie.
"It's early for that yet but it doesn't hide the disappointment of everyone, and importantly for him."
Bodde, despite his injury troubles, has been the subject of failed bids from Premier League sides Wigan Athletic and Bolton Wanderers.
Sheffield Wednesday manager Gary Megson also expressed a desire to sign him on loan during the recent January transfer window.
Former Den Haag player Bodde, who joined Swansea for £50,000 in June 2007, has not yet played under Rodgers but signed a one-year contract extension with Swansea in June 2011 after the club's promotion to the Premier League.