Patrick Bamford's Chelsea move a sign of times - Forest
By Dan Sinclair and Owen Phillips
BBC Nottingham
Last updated on .From the section Football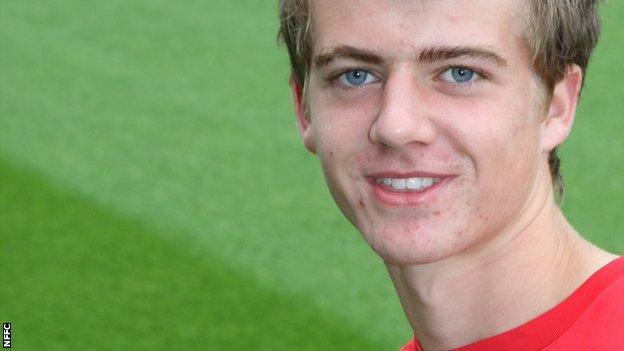 Nottingham Forest chairman Frank Clark fears their failure to fend off Chelsea's interest in £1.5m striker Patrick Bamford is a worrying sign of how the footballing landscape has changed.
The Grantham-born teenager had been with Forest's youth set-up from the age of eight and had only played 12 minutes of first-team football.
But a series of eye-catching displays in the FA Youth Cup tempted the Premier League giants to splash out for the 18-year-old's services.
Although Clark fully understands Bamford's decision, the former Forest boss says it is a shame the much-coveted striker moved on before he had the chance to shine at the City Ground.
And given Forest's current predicament, which sees Steve Cotterill's side second from bottom in the Championship table and four points adrift of safety, the timing of the move could hardly have been worse for supporters.
"I'm disappointed I'm not going to see Patrick develop in a Nottingham Forest shirt over the next two years," Clark told BBC Radio Nottingham.
"We used to be able to hang on to players for a couple of years into the first team - Michael Dawson, Andy Reid, Marlon Harewood, Jermaine Jenas - people like that - before the big clubs came in.
"But now the real big clubs are paying fortunes for kids of 13, 14, 15, 16. They are not prepared to wait. It's getting more and more difficult for clubs like ourselves to hang on to the really talented players."
Bamford has only made two brief first-team appearances, his debut coming as a substitute on the last day of 2011 against Cardiff City.
But he scored four goals in the 5-1 FA Cup Youth win at Southampton and five in the previous round - a 9-1 hammering of Wigan Athletic - and that prompted Chelsea to lure him to Stamford Bridge on a five-year contract.
Bamford's progress is even more remarkable considering he went to the independent Nottingham High School where football has to wait until the sixth form.
Head of PE Martin Smith told BBC Sport: "We're very much a rugby school.
"He was a talented sportsman when he joined but not exceptional. He certainly wasn't one of the stars. He played full-back mostly, every Saturday until the end of Year 10.
"At that stage he was training for Forest Saturdays and midweek. Speaking to his dad, the rugby stood him in good stead for football and toughened him up. As I remember he wasn't the strongest tackler.
"We adapted his timetable so that he could train with Forest. We made every effort to accommodate him.
"Quite a buzz went around the school when the news broke (of his transfer to Chelsea) and we'll follow his career carefully."
Headmaster Kevin Fear added: "It's really quite unusual for someone from an independent school to make it in the world of football.
"In the sixth form we allowed him to train with Forest and do his A-levels. He's a very bright lad.
"He did French, History, Biology and General Studies and got a good set of A-Level results.
"Patrick could have gone to university but decided to concentrate on his football.
"He's a lovely lad we are very proud of what he has achieved. He deserves to be successful.
"My only worry is that I'm an Arsenal fan and he's gone to Chelsea."
Bamford was out of contract in the summer but been offered the most lucrative deal ever tabled by Forest for a player his age.
Clark insists the club did all they could to keep the free-scoring forward.
"It was a really difficult decision for us," he added. "The club had been negotiating with Patrick's father and his agent since the start of the season.
"Steve Cotterill saw him play in the reserves and immediately moved him up to start training with the first team. I had a meeting with his agent and his father and didn't get anywhere.
"When Patrick made the first-team appearance we immediately offered him a much-improved contract - the best contract that's ever been offered to an 18-year-old at this club.
"Then he gave two outstanding displays in the two Youth Cup games. So we redoubled our efforts to get him to sign this contract to no avail.
"And then we get this offer from Chelsea. Patrick and his father wanted the opportunity to go and speak to Chelsea. We took the decision that we'd have do that and ride it out and see what happens, hoping that he wouldn't go.
"We hoped that Patrick would get down to Chelsea and think 'I'd rather stay in Newark with all my friends and I'd rather stay at Nottingham Forest with all my friends' but obviously I can understand.
"The deal's done and the money is there. Hopefully Steve will be able to use it in the summer and restructure the club. The full lot has been paid up front. There's add-ons, sell-ons."