Egypt football riot: Club coach saw 'fans die' after pitch invasion
Last updated on .From the section Football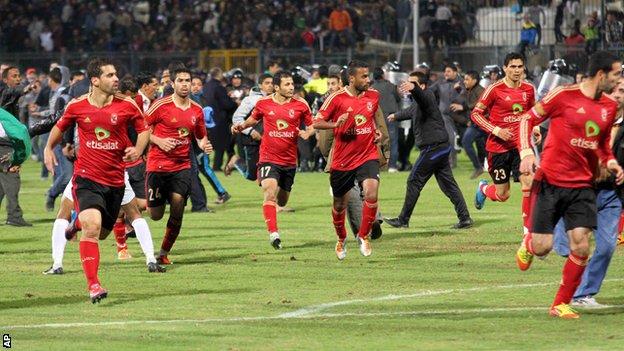 An Egyptian club coach has told how he was "beaten with fists and sticks" and saw fans killed during a pitch invasion which left 74 people dead.
Manuel Jose, coach of Cairo club al-Ahly, has returned home to Portugal following the riots which erupted at the end of the game against al-Masry in Port Said on Wednesday.
"I was beaten with fists and kicks to the neck, head and feet," said Jose.
"I saw our fans die before us and we were unable to do anything."
Many fans suffocated after becoming trapped in a narrow corridor as they fled the violence, according to reports.
Some people feel the police and security forces did not do enough to intervene.
Al-Ahly assistant coach Pedro Barny said: "What happened was an unspeakable catastrophe.
"From the beginning of the game, the fans of the opposing team were allowed to fire rockets and stones at us without any intervention.
"In the end, it turned into a state of madness without any role for the security in the stands.
"We tried to save the lives of some of the fans, but many died before our eyes."
Jose, 65, has played for and managed Benfica in a long managerial career, but says this experience has changed his life.
He told the al-Ahly club website: "Nothing happened to any of the players but we feel overwhelming sadness and the return flight [home to Portugal] was made in silence, full of respect for the lives of our fans who died.
"I have to think about my life differently now. Although everybody loves me greatly here, this experience has changed my life completely."
The Egyptian Football Federation has suspended all leagues in the country.
A statement read: "The Egyptian federation has decided to stop the football leagues in all four divisions for an indefinite period after the violence that occurred in the game between al-Masry and al-Ahly, which represented a tragic shock to the centre of sport in general and the football family in particular."