Kettering boss Ashley Westwood waits on news like fans
Last updated on .From the section Football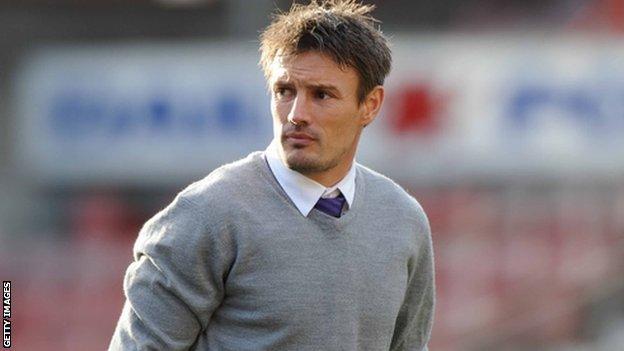 Kettering Town caretaker boss Ashley Westwood says he is avoiding being involved in their off-field issues.
The Poppies have a fans' forum on Friday, and are the subject of a winding-up petition on 6 February.
Westwood told BBC Radio Northampton: "There's nothing I can do with regard to off-field [issues].
"This is probably described as an impossible job. I don't think many would've fancied it, so to get two wins has been fantastic."
He added: "Since I've come in, it's been fine and you wouldn't think there's anything wrong at all, with the way the spirit has been."
Striker Jean-Paul Marna has left the club and joined fellow Blue Square Bet Premier side Tamworth, but Westwood believes that no other players are set to depart imminently.
"We're still on 18 in the squad as of yesterday. As we stand, it'll be the same squad [for Southport] and we're looking to go forward with what we've got.
"It's a week cooling off now after the [transfer] window and then you can restart something on 7 February, so until then, I'm sure there'll be no changes."
The fans' forum looks set to be led by the club's former commercial director, Lee Thorn, who had previously stated his interest in taking over the Conference club.
Thorn told the Northants Evening Telegraph: "There will be a true picture of the state of the club on Friday night and what it will take to bring it back to a level playing field.
"We [the fans] might need to dip into our own pockets and try to find this money.
"No-one has asked the fans for money but now I am asking. A figure of £35,000 must be paid to HMRC."
Westwood, however, says he does not believe he is expected at the meeting.
"No-one has contacted me to attend, so I don't think I'll be there. I'm not sure I'm wanted there, to be honest. I'll wait to see what transpires."