David Weir backs Rangers and departed Nikica Jelavic to succeed
Last updated on .From the section Football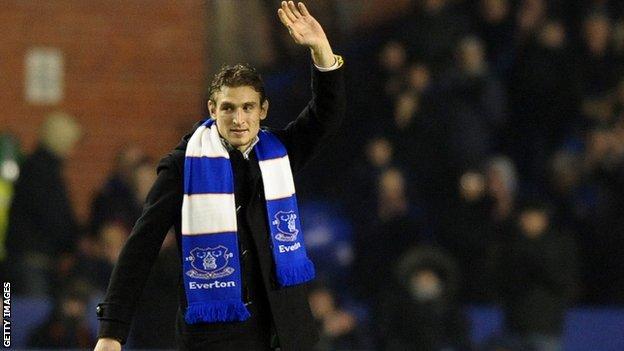 Former Rangers captain David Weir thinks the side will miss Nikica Jelavic and has backed the striker to be a success with new club Everton.
But the veteran defender insists their former team-mates can still overcome in their title battle with in-form leaders Celtic.
"It's sad to see him go, but he's gone there and I think he will do well there," Weir told BBC Scotland.
"But they've had big losses in the past and recovered from them."
In previous seasons, Rangers have also lost main strikers - Kris Boyd and Kenny Miller - during January only to emerge as champions.
"He's a massive loss, really disappointing," said Weir, who left Ibrox during January after finally falling out of the first-team picture at the age of 41.
"When he's at his best, he's unstoppable almost. He's got a little bit of everything and he's a real team player.
"They've got to try to win the league without him and it'll be tougher without him."
Rangers failed to replace Jelavic amid a backdrop of continued fears about the financial future of the Glasgow club.
"These headlines have been going on for years now and we, as a group, managed to win the league and do well," said Weir.
"So the background of uncertainty about the club remains. Nobody knows what the true picture is.
"But the lads, I am sure, will continue to do what they do best, which is win football games.
"And you saw that at the weekend, when Nikica wasn't playing, they went out and won 4-0 against Hibs.
"It's disappointing to lose such a good player, but there's still plenty of hope there."
Jelavic fills the gap at Goodison created by the departure of Louis Saha to Tottenham Hotspur.
Despite the Croatia international arriving just as on-loan Tigre striker Denis Stracqualursi emerged to have a starring role in the midweek win over Premier League leaders Manchester City, Everton manager David Moyes will hope Jelavic can provide the missing goals for his shot-shy side.
Weir could have helped his convince his fellow Scot to make the Croat a target.
"I wouldn't claim to have advised David Moyes, but he has asked me about him in the past," said the former Everton defender.
"I just told him what I thought, which is obviously he is a very, very good player.
"I loved playing with him and he was such a good player for Rangers.
"It's sad to see him go, but he's gone there and I think he will do well there.
"I think the club will suit him and I think he's ready for that step and I look forward to seeing how he does."