Gabonese fans offered free tickets to quarter-final
By Alex Capstick
BBC Sport, Libreville
Last updated on .From the section Football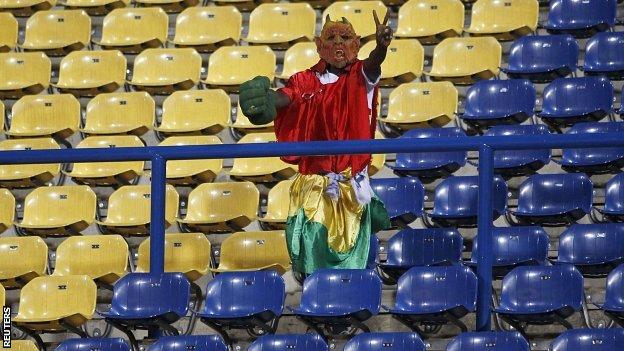 Africa Cup of Nations organisers in Gabon have pledged to offer free quarter-final tickets to fans, in an effort to address low attendances.
Many games have been played in front of whole sections of empty seats, particularly in Franceville.
Wednesday's tie between Ghana and Guinea was seen by as little as 1,000 fans in a ground that holds 25,000.
Organisers have responded by promising free entry to Sunday's tie between Ghana and Tunisia in Franceville.
The matches involving the co-hosts - two of which were played in Libreville and one in Franceville - have been well attended, with near-capacity crowds watching the Panthers' progression to the last eight, with three wins out of three.
But the Stade De Franceville and the Stade de l'Amitie in Libreville - which can hold 40,000 people - have seen vast swathes of empty seats for other high-profile group matches, a problem the Nations Cup Organising Committee (Cocan) hopes to address.
"Usually, if you take [previous] tournaments, in the stadium when the local team is not playing, people don't go to the stadium," Louis Claude Mounzeo Koumba, head of communications for Cocan in Gabon told BBC Sport.
"We try to do the best. Usually [in other] tournaments, it's 40 per cent of people who go to the stadium.
"In Franceville, during the game between Ghana and Guinea, 10,000 people [went] to the stadium," Koumba said, citing Cocan's own figures.
"It's not enough."
"We work [to ensure] that [for] the quarter-final between Ghana and Tunisia [in Franceville], there will be many more people in the stadium."
The price of tickets may be one reason for the low attendances at games, with the cheapest tickets costing around $10 in a country where the monthly legal minimum wage is $160.
Asked what measures the organisers would take to ensure increased attendance, Koumba said they would work with sponsors to provide free tickets to fans.
"The sponsor of the Cocan [told] us that they will buy the tickets, and we will give [them] to the people and we'll do the transportation for the people to [get to] the stadium.
"The sponsor will buy the tickets for them and Cocan will distribute.
"All the people will get the tickets - students, workers, and people that live near Franceville. We'll get a plan for transportation to bring people into the stadium."
The organisers should be assured of another capacity crowd in Libreville on Sunday, with Gabon taking on Mali, and say they are confident they will also fill the seats in Franceville.
"No problem in Libreville," Koumba said, "and no problem also in Franceville, during the next step of the tournament."
The two other quarter-finals, involving co-hosts Equatorial Guinea and Ivory Coast, and Zambia and Sudan, take place in Equatorial Guinea on Saturday.