Everton's Nikica Jelavic says he did not force Rangers exit
Last updated on .From the section Football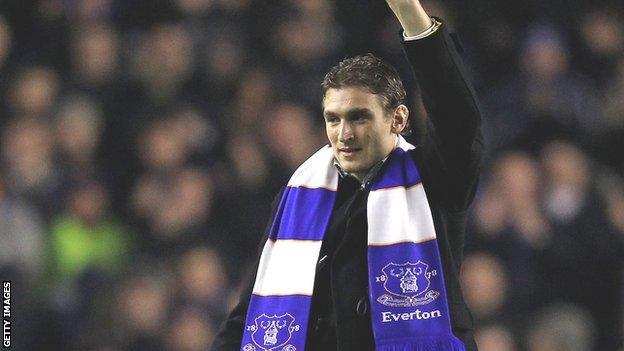 Nikica Jelavic says he did not insist on a January transfer from Rangers to Everton.
The Croatia striker made it plain in his time in Glasgow that he wanted to one day play in England's top flight.
But he disputed Rangers chairman Craig Whyte's claims that he was a player "who no longer wants to be at Ibrox".
"I never forced my transfer. I spoke with my manager, Ally McCoist, and I said to him 'if the president wants me to stay, I'll stay'," said Jelavic.
"'If he wants me to leave, if they need money, I'll leave - no problem'."
These comments prompted Rangers' chief operations officer Ali Russell to respond on Thursday evening.
He said: "Nikica told Ally McCoist personally on Monday he wanted to move to the English Premier League so to suggest he didn't want to leave Rangers is nonsense.
"Nikica, and indeed his family, were widely quoted throughout January about playing in England and his agent also communicated the fact he wanted to achieve a lifetime ambition and test himself in the Premier League.
"He wants to earn a starting place for Croatia at Euro 2012 and felt a move to England's top flight would help him achieve that.
"Nikica was a terrific player for Rangers and we wish him well at Everton but to suggest he was forced to leave Ibrox is just ridiculous."
Russell's comments continue the theme of Whyte's statement on the Rangers website on Tuesday, the day of the £5.5m transfer of the club's top scorer.
There, Whyte gave a two-fold explanation for the sale of the player the club bought for £4m.
He said: "One, the player wanted to leave and there is no point in trying to keep a player who no longer wants to be at Ibrox.
"Two, the club is simply not in a financial position to turn down offers for players which give the club a good return on its original investment."
With Jelavic gone, and forwards Steven Naismith and Kyle Lafferty missing through injury, David Healy is the reigning Scottish Premier League champions' sole out-and-out recognised striker.
None of the fee from Everton was spent on replacing Jelavic, with Rangers' financial problems and the closure of the transfer window the main obstacles to McCoist making a bid.
Asked about making the decision to leave, Jelavic said: "It was difficult because they gave me a beautiful 18 months - two trophies, many goals.
"It was not easy, but this is football and we are professionals.
"I just want to say once more thanks to everybody at Rangers.
"They will have a special place in my heart always."
The scorer of 17 Rangers goals believes his former team can overtake Celtic to lift the SPL title, despite being a point behind their old rivals and having played a game more.
"Yes, with or without me," he insisted despite also acknowledging Rangers' financial troubles. "It is a good team, it is a big club.
"There is always a chance. There are plenty of games to go.
"It is still my team, my friends are there. I am worried about the situation, but I think they will find a solution. It is an institution."
Having made the move to Goodison, the player admits he will have to adapt his game to succeed.
"The English Premier League is the biggest league in the world, the strongest, and for me it is a big step forward in my career," he told Everton's media conference.
"I want to prove myself here now and to play well for the club and the supporters.
"Scotland is not on such a high level as the English Premier League, so I will need to be a bit better to show everybody that I deserve to be here.
"It's different football. I will need to play always at 100%.
"I don't know much about Everton, but I know it is a good club, always in the middle of the table.
"In the four and a half years of my contract, I have time to learn."
However, he stated his determination to be the solution to manager David Moyes' search for a regular goalscorer.
"I know he expects a lot from me and I can promise to do my best and score lots of goals," he added.
Meanwhile, Steven Pienaar has not ruled out the possibility of his loan spell at former club Everton becoming permanent.
"I feel great to be back," he said. "I just want to play football and this is a great opportunity to come back and play.
"If I have a good few months we will see what happens in the summer but let me focus on the first few months and get playing and then see what happens in the summer."