Off The Bawl - 29 January
Last updated on .From the section Football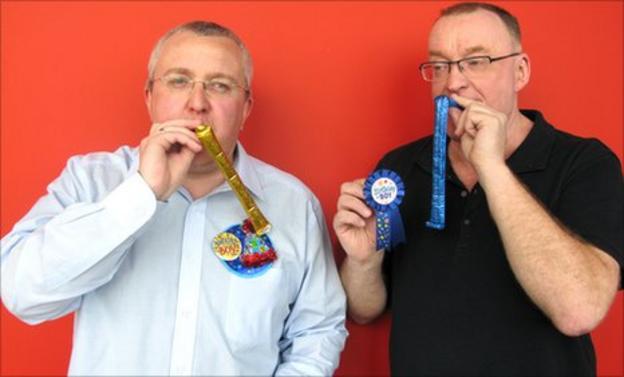 Greeeeeetings!!! "He's a bit coorse." That's how Tam Cowan was succinctly summed up after the very first edition of Off The Ball way back in 1996 by none other than Stuart Cosgrove's mum.
Sadly, dear old Alice - OTB's No. 1 fan - passed away last week. So, by way of a wee tribute, we talked about the great phrases everyone associates with their mum.
On the back of Rob Maclean grassing Michael Higdon to the SFA compliance officer, we looked back on the memorable gestures in Scottish football.
We also asked, what does Dundee United mean to you? And, to mark one of Off The Ball's favourite former guests being freed from prison, our team of the week was The Tommy Sheridan XI.
Here's another selection of the most petty and ill-informed texts and emails on radio...
YER MAW'S FAVOURITE PHRASES
"Away and bile yer heid and make daft soup!" (Martin from Airdrie)
"Away and sh*&e a horse and start a circus." (Charles Harrigan)
To cheeky kids in the street: "Away and ask your mither who yer faither is!" (Brian McDermott, Maryhill)
To anyone lacking dexterity: "He's as handy as a coo wi' a gun." And when talking about something particularly sour-tasting: "That would make a monkey hit its faither!" (Craig in Clydebank)
"I'll knock you into the middle of next week!" (Eddie in Letham)
"Yer a*&e is oot the windae - away roon' the back and pap stanes at it." (John in Glasgow)
When you ask what's for dinner: "A run roon the table and a kick at the cat."
Alternatively: "Tripe, sh*&e and onions." (Anon)
If we ever complained about not getting something we wanted, my mother's favourite saying was: "I cried because I had no shoes - until I saw someone with no feet." (Alva in Carlisle)
"Away tae France and pick up shells." (Billy in Partick)
"Behave yersel' - it's no' ootside yer in!" (Chris from Dunfermline)
As a wean I was always getting my feet wet - even in the summer - so my maw used to say: "Rab, son, you could find a puddle in the Sahara." Then she'd skelp my erse. (Rab fae Dalmellington)
As my mam chased me round the scullery, she'd say: "Haw! Staun still tae I git a hit at ye!" (Frances Duke in Helensburgh)
Even though we were already greetin', my maw would say: "I'll gie ye something tae greet aboot!" (KC, Perth)
"Are you talking about me behind ma back right in front of ma face?" (Harry in Edinburgh)
In response to a query about where to find my shoes or my school tie, my mum would always answer: "Hingin' fae ma tap lip shouting Tarzan!" (Annie in Mount Florida)
I remember my mum telling me not to be nervous at an interview by saying: "His erse is in two haufs, the same as yours." (Sam in Saltcoats)
WHAT DOES DUNDEE UTD MEAN TO YOU?
Steve in Skye said: "Michael Marra's song Hamish. It's the best football song ever and he even manages to make reference to Grace Kelly's visit to Tannadice."
David Robinson in Aberdeen said: "What does DUFC mean to me? Having a bigger away support at Tannadice than the home fans."
Gordon in Glasgow said: "What does Dundee Utd mean to me? That's simple - an easy three points!"
MEMORABLE GESTURES
Des in Greenock said: "What about Paulo di Canio giving Barry Ferguson the bad breath gesture while Wee Bazza was shouting in his face?"
Mary in Alloa said: "Scott Brown's goalscoring gesture to El Hadj Diouf was my favourite."
Aberdeen fan Daz said: "Gazza at Pittodrie. After scoring a goal, he pretended to put on a pair of wellies before rogering an imaginary sheep. The whole crowd was in stitches and, unlike the time he was booked for flashing a yellow card at the ref, I'm pleased to say he wasn't cautioned."
A Hibs fan said: "I remember we were chanting to Stevie Fulton about how ugly he was and, when he blew us a kiss, the idiotic ref booked him! It's the one and only time I've felt genuinely sorry for a Jambo."
TEAM OF THE WEEK - THE TOMMY SHERIDAN XI
1/ Libel Charbonnier
2/ Tommy Swing (c)
3/ Kieron Liar
4/ Slander Diamond
5/ Willie Miller-tant
6/ Suntan Varga
7/ Contempt of Paddy McCourt
8/ Threesome Yueng
9/ Francesco Totti
10/ Nani
11/ Orgy Cadete
Subs: Darren Bar-L, Gordon Per-durie, Marcus Gail
Referee: Graham Poll Tax
AND FINALLY...
The song that played us out?
We challenged the listeners to suggest an appropriate tune for Tommy Sheridan. For example...
Stupid Cupid (Carole-Marie in Duns)
I Want Your Sex by George Michael (Mary in Alloa)
News Of the World by The Jam (Frank)
Sorry Seems To Be The Hardest Word (Stephen)
The Oldest Swinger In Town (David Smith in sunny Netherton)
But we plumped for Jim in Fort William's choice...
I Fought The Law And The Law Won.
PS. The last word goes to Jim in Netherlee who said: "Thank God that Tam is back after missing last week's show with flu. When Stuart went on about the Aberlour Trust for 15 minutes, I thought I'd tuned into Radio 4. Not one knob joke in two hours! Welcome back, Tam..."
To join in the fun on this Saturday's show, call 0500 929500, text 80295 or email offtheball@bbc.co.uk
Listen to the most recent Off the Ball programmes.
Download the latest Off the Ball podcast.