Preston's Paul Coutts is stripped of the captaincy
Last updated on .From the section Football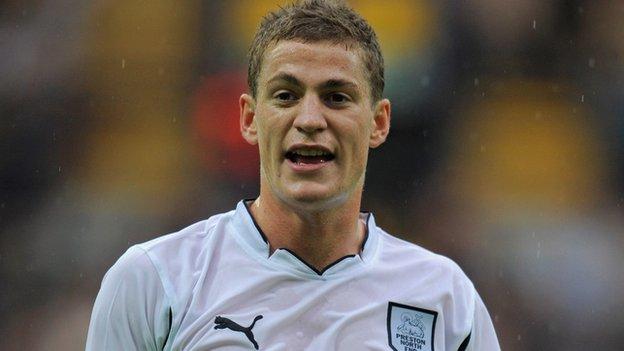 Preston manager Graham Westley has hit out at Paul Coutts' attitude after stripping him of the captaincy.
The 23-year-old midfielder has been told to stay away for a couple of days after becoming unsettled.
Westley told BBC Radio Lancashire: "I've been very disappointed with Couttsy since I've been here and I've told him I'm taking away the captaincy.
"He's got to get himself focused - I don't care about talent, I want players who want to play for the team."
He added: "Any professional player who's employed by a club needs to get his mind on that club, the fans are out there giving good money across to give the players a good living and that's what players need to be mindful of."
Doubts over Coutts' future came to Westley's attention on the eve of his first game in charge against Leyton Orient: "I shouldn't have been having a conversation with him on a Friday night about whether or not he was going to put in a transfer request.
"I've sent him away and told him to get his head together.
"I've said to him 'when you come back into my office I want you to be able to tell me you can play whole-heartedly for this football club, but until you do that, I don't want you around this football club'."