John Terry: New captain should be Capello's decision, says Wenger
Last updated on .From the section Football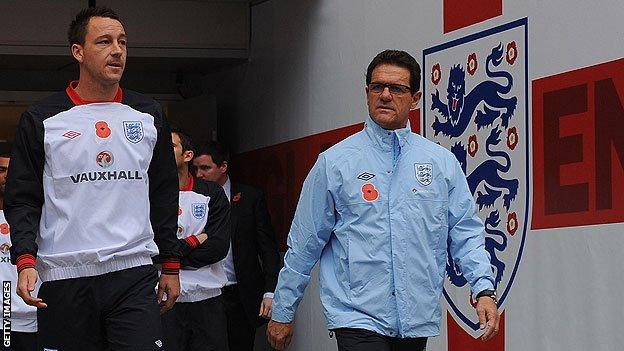 The decision on who captains England must be taken by coach Fabio Capello rather than the Football Association, says Arsenal manager Arsene Wenger.
John Terry, who stands trial in July over allegations he racially abused QPR's Anton Ferdinand, has been stripped of the role by the FA.
"I think it is the manager who names the captain," said Wenger.
"It is a very difficult position to be in. The manager has responsibilities that should be left to him."
Terry was informed he had been stripped of the captaincy in a phone call from FA chairman David Bernstein at 1000 GMT.
Bernstein spoke to FA board members and the majority view was that the Chelsea defender should be stood down.
The chairman also explained the situation to Capello, who was not involved in the FA's discussion on the issue.
Terry has entered a plea of not guilty to the charge, which followed comments he made to Ferdinand during QPR's 1-0 victory over Chelsea in October.
David Davies, former executive director of the FA, felt the decision to stand Terry down was inevitable.
"All this noise is a distraction and what would it have been like for the England squad in a major international tournament in June?" he told BBC Radio 5 live.
"It's clear to me that David Bernstein has taken a lead in this and has done the inevitable thing."
Ex-FA chief executive Mark Palios questioned why the governing body had opted to change its stance on Terry, having kept him as captain since the allegations were first made in October.
"What the FA has to do is a balancing act between the rights of the individual and the wider game," he commented.
"I don't know how that will affect the dressing room and make it better than it was by keeping him in the squad but taking the captaincy off him."
Former Leeds and Manchester City full-back Danny Mills, who played alongside Terry for England, also questioned the timing of the FA's decision, which came more than three months after the alleged abuse took place.
"I don't get it and I wish someone would explain what is different today to last week," he told BBC Radio 5 live.
"If he's not fit to represent his country as captain then he's not fit to represent it at all. It's a halfway house to take the captaincy off him.
"If I was the FA or Capello, I would have left him as captain until after the trial and then he can be dealt with [depending on the outcome]."
Former Torquay and Brentford manager Leroy Rosenior believes Capello should leave Terry out of his Euro 2012 squad.
"They have made the right decision," stated Rosenior. "I just found it incredible that John could think he could lead England into the European Championship.
"I don't even think he should go to Euro 2012 - I don't think it'd be good for the team."
Former England midfielder John Barnes added that the FA needed to be clear on its stance on Terry.
"I think it's a bit hypocritical that you shouldn't captain the country, but you can still play for England," said the ex-Liverpool midfielder.
"It should be one way or the other."
QPR boss Mark Hughes is unhappy that Terry's trial will not take place until July.
"They've made a decision that impacts on one of my players, they've given a date which is slap bang in the middle of pre-season," he said.
"Certainly from my point of view and Anton's, we'd have preferred it to have been done and dusted by now.
"We weren't involved in any discussions, otherwise we would have put our point over that there could be a little bit of an issue from our point of view."
Conservative MP Damian Collins, who is on the culture, media and sport select committee, stated: "When you're England captain you're more than just a footballer.
"I don't think we can wait until July and pretend that nothing has happened.
"I think Terry has to accept that if you're England captain you have a position in public life. He is in a very public and exposed position."
David Johnstone of the Chelsea fanzine CFCUK was quick to defend Terry, saying: John Terry is the best player for the job.
"Most of the players that John Terry plays alongside are either foreign or black. If he was in any way racist he wouldn't be the captain of the club."
Terry's former team-mate Jimmy Floyd Hasselbaink, who played with him at Chelsea for four years,believes the FA should have dealt with the issue shortly after the incident happened.
"The FA should have cleared hin or punished him. It should have let it go to a police investigation," the Dutchman told BBC Radio 5 live.
Former Conservative MP and Chelsea supporter David Mellor also vented his frustration towards the football body.
"A decision should and could have been taken about this at the time he was charged. This is the usual extraordinary muddle-headed FA approach.
"They now propose to strip him of the captaincy. It shows the FA is simply not fit for purpose."
The Professional Footballers' Association expressed the hope that the FA's decision would allow Capello and his players to focus on Euro 2012 which begins on 8 June.
"It is hoped that now that the decision has been taken, the focus of attention can return to those preparations and to the football," it said.