Arsenal boss Arsene Wenger to 'rise above' fan protest
Last updated on .From the section Football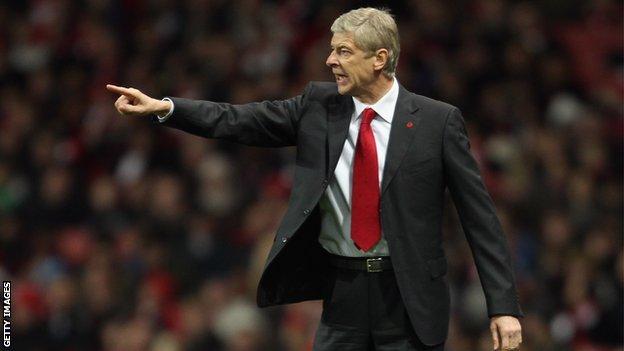 Arsenal boss Arsene Wenger insists he will rise above a protest planned by fans upset by recent performances.
Arsenal have taken just one point from their last four Premier League matches.
Some fans intend to cover empty seats with black bin liners at Saturday's match against Blackburn to highlight falling attendances at home matches.
"I feel we have to be above that and show our quality on the football pitch and not respond to every individual provocation," said Wenger.
Arsenal finished fourth in the Premier League in 2010-11, but they currently sit seventh - outside Champions League qualification and 17 points off the top.
Wenger himself has come in for criticism, most notably when he replaced Alex Oxlade-Chamberlain with Andrey Arshavin before Manchester United's winning goal in the 22 January league clash.
But the Frenchman, who has won the Premier League title three times since he was appointed in October 1996 and whose contract runs until June 2014, called on fans to maintain a sense of perspective.
"I believe we played 15 years on the trot in the Champions League, and we play in 10 days in the last 16 of the Champions League," he added.
"Ideally I want everybody to be completely happy and over the moon, but we live in a world where you have to accept that not everybody reacts the same."
Arsenal have claimed that attendances at their last three home league games have been in excess of 60,000, only marginally short of the 60,432 capacity.