Ibrahima Traore backs Guinea coach Dussuyer to stay on
Last updated on .From the section Football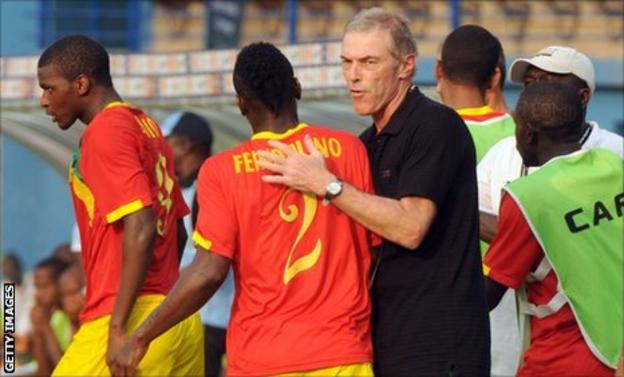 Guinea winger Ibrahima Traore wants Frenchman Michel Dussuyer to continue as national coach.
Guinea failed to reach the quarter-finals of the ongoing Africa Cup of Nations in Gabon and Equatorial Guinea, after finishing third in Group D.
This was despite being the first team in 42 years to score six goals in a Nations Cup tie, thumping Botswana 6-1.
"Offensively and defensively we showed we are a good team with talented players," said Traore.
"There is nothing more to change in this team," added the VfB Stuttgart player, who shone for the Syli Nationale in Gabon.
The Guineans, who knocked out Nigeria in the qualifying campaign, finished Group D with four points - trailing leaders Ghana, with whom they drew 1-1, and Mali, whose opening 1-0 win sunk Dussuyer's side.
"A bit of inexperience cost us in this competition because some of us were playing it for the first time," Traore explained.
The French coach, who led Guinea to the 2004 Nations Cup quarter-finals during his first spell in charge, was re-appointed to his previous role in May 2010.
"When (Dussuyer) came, there was no team in the country and we were the underdogs against Nigeria, but he assured us that we will qualify for this Nations Cup.
"And after a year with the team, we are now a better team with him."
Dussuyer says he has yet to discuss his future with his bosses following the team's disappointing first-round exit.
"We will see what happens. I have not discussed with the authorities and so don't know what the future holds," said Dussuyer.
"I was asked to build a good team and qualify for the Nations Cup. I have met these expectations.
"I have re-energised the team even though we failed to reach the quarter-finals of this Nations Cup."
Should he stay, Dussuyer's next task would be to qualify the team for next year's Nations Cup as well as the 2014 World Cup, with Africa's qualifiers beginning in June.