Rangers manager Ally McCoist laughs off quit speculation
Last updated on .From the section Football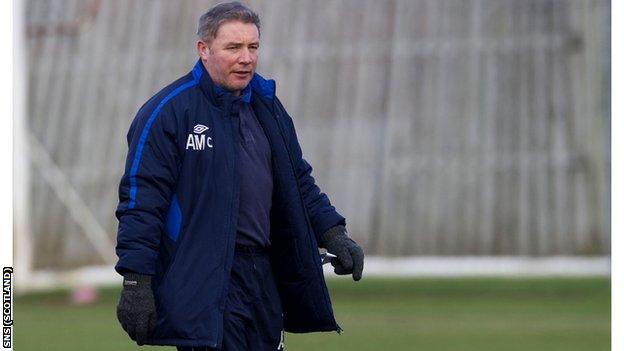 Rangers manager Ally McCoist has dismissed speculation he considered leaving Ibrox after failing to bolster his squad in January.
"Absolutely never," McCoist said. "There must have been 500 snaps of me leaving Ibrox and about 10 snaps with my face tripping me.
"My face wasn't tripping me. I can assure supporters I wasn't storming out.
"I'm as committed to doing this job as I've ever been."
The photos were taken after McCoist realised he had not been able to add a striker to his squad to replace Nikica Jelavic, who was sold to Everton on transfer deadline day.
But, while admitting to differences of opinion, McCoist insists there are no problems between himself and chairman Craig Whyte.
"He wants success for this football club just as much as I do, but we've both got different ways and beliefs in how we get there," said the manager.
"He has to run the business. He runs the club and the club has to be successful.
"My job is to make the club successful by putting a winning team on the park, so we both have the same aims and beliefs and desires, we've just got different jobs to do and different ideas how we get there.
"I've got a fantastic, healthy relationship with Craig and have done since he came to the club.
"Like all healthy, working relationships, we don't agree on everything.
"I believe if we did, it would be unhealthy, but we never fall out and we don't have a problem."
Rangers failed in a bid for Norwich City striker Grant Holt and McCoist concedes the club simply could not afford his top targets.
However, he insists he was in a position to make additions before the transfer window closed and chose not to.
"I could have, yes," said McCoist. "But I didn't feel they would really benefit the squad or the team.
"As manager of the club, I have to put a team out on the park that wins football games.
"There are lots of players out there that we could have made bids for. We didn't, simply because I didn't think they would benefit the team.
"The ones that I wanted, including Grant Holt, who we put a bid in for, were just a little bit too expensive for us, which I can totally appreciate because Craig has to run a business.
"The most important thing is the running and welfare of the football club.
"That is more important than the results, believe me."
McCoist also backed Whyte's decision to sanction Jelavic's switch to Everton for £5.5m.
"I can understand Craig's position on that one because I know the financial situation at the club isn't good," he said.
"It's been well-documented that if a suitable offer came in for Nikica - or any player - it would be accepted. This wasn't news to me.
"As disappointed as I was to see Nikica go, Craig only made that decision for the benefit of the club financially."
Jelavic has contradicted Whyte's claim that the player had wanted to leave.
"It has been very well-documented that he had big ambitions to play in the Premiership," said McCoist.
"There is no ill feeling between any of us and Nikica.
"He was wonderful here, he's a great lad and he goes with our best wishes.
"We hope he's a success and I'm sure he will be."