Nicky Maynard's Bristol City exit influenced by fans
Last updated on .From the section Football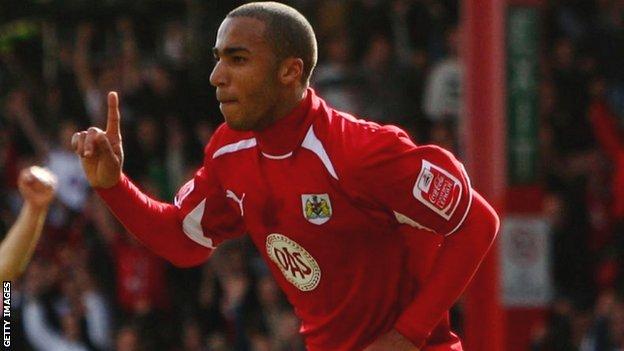 Former Bristol City striker Nicky Maynard says abuse from fans influenced his decision to move to West Ham.
"I was ready to move because it was hard for my family to come to games," he told BBC Radio Bristol.
"The fans were giving me a hard time, which I could take, but for them to be how they were with my family was more or less the turning point for me."
He continued: "I trained as much as I could and played as well as I could. The staff and the players were behind me but I think the fans were getting a bit agitated.
"There were times when my parents and my family had come to away games and they were getting stick, they had bottles thrown at them which wasn't very pleasing and I found it disrespectful.
"In the long run it was best that I get out the way now, concentrate on playing football and make sure my family are happy and secure as well."
Maynard had been with Bristol City since July 2008, arriving from Crewe for £2.25m, and scored 46 goals in 131 games for the Championship side.
His contract was due to expire at the end of the season and, after failing to commit to a new deal at the club after nine months of discussions, the forward was placed on the transfer list.
Wigan, Blackburn and Swansea enquired about signing Maynard, but he opted to join West Ham on a two-and-a-half-year deal, thought to be worth around £2m.
"I felt this was my best opportunity to play Premier League football without any worries of having to be a yo-yo club," he added.
"They're a massive club with a massive fanbase and everything to go up.
"I'm going to concentrate on playing for West Ham and hopefully I can do well for myself and my career."