Matt Bloomfield column: Transfer watch

By Matt Bloomfield
Wycombe Wanderers midfielder
Last updated on .From the section Football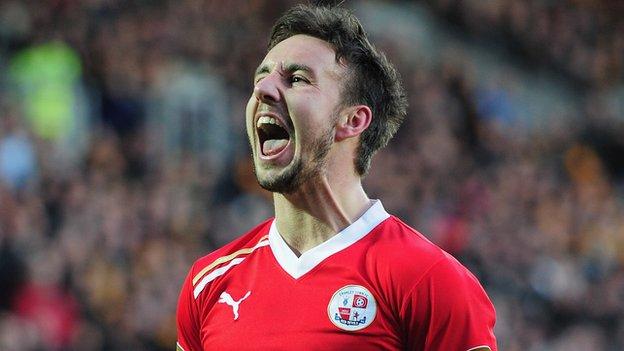 The January transfer window has now closed and clubs in League One and Two have made their final permanent signings of the season.
It's an interesting time when the wait for one transfer can sometimes trigger off three or four. Budgets are the biggest worry for clubs at our level and dictate exactly how much business a club can do.
Bournemouth are in a different position to most and their financial backing enabled them to be the biggest spenders in League One.
They spent a reported £800,000 on Matt Tubbs (pictured) and made further additions with the captures of Steve Cook from Brighton and Donal McDermott from Huddersfield. These transfers without a doubt make them stronger and further enhance their chances of grabbing a play-off place.
They have lost striker Michael Symes to Rochdale though and I think that he will be missed by them.
Symes is a really good team player who seemed to be revelling in the position just behind striker Wes Thomas. He has certainly made the right decision to move to Rochdale for regular football. It shows how much he wants to play.
Preston's new manager Graham Westley has wasted no time in re-shaping his squad by signing seven new players. Preston are a big club who are steeped in history and they have obviously been under achieving. I don't think that it's a surprise that Westley has decided that he needs to have a shake-up of his playing staff.
The bottom of the league is so tight with four points separating seven teams. Money is obviously a bigger worry for these teams as I expect their respective playing budgets would suggest.
Chesterfield have brought in Nicky Ajose on loan from Peterborough. Ajose scored a lot of goals in League Two for Bury last season and looked sharp when we played against him.
Meanwhile, we have managed to sign Matt Whichelow on loan and bring Anthony McNamee back to the club on a free transfer.
McNamee will bring us undoubted quality in wide positions and we are all looking forward to working with Whichelow who we have heard really good things about.
Crawley will be very pleased with their business during the window. Although they have lost a proven goal scorer in Tubbs, they have been able to replace him with Karl Hawley and Billy Clarke.
They are also in the enviable position where they can afford to turn down a reported £1.9 million pound bid from Peterborough for Kyle McFadzean and Tyrone Barnett. I'm not sure there are any other teams in League two who could do that.
Northampton have given themselves a massive boost against relegation with the signing of Clarke Carlisle.
Clarke is someone who I have got to know well from our time together on our degree course and he is a fantastic leader on top of his undoubted experience. There is no substitute for experience, especially when you get to the business end of the season.
A good signing in the January transfer window can add real impetus to a team for the run in. Every team will be hoping that their signings will give them that extra lift for the rest of the season.