Paulo Sergio plans talks over future as Hearts manager
Last updated on .From the section Football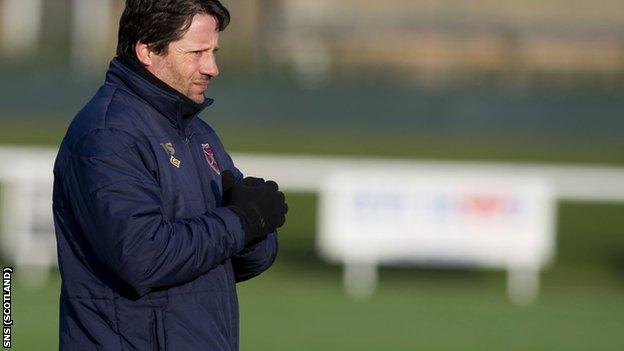 Paulo Sergio hopes to discuss extending his stay at Hearts soon with owner Vladimir Romanov despite fearing for the future of the Edinburgh club.
"I think I can stay next season, but that depends," said the manager.
"We're going to talk with our board and everyone. I don't know what the project is at this moment. I need to feel I'm part of a big thing.
"We need to sit down on the table and make everything clear. I don't want to wait until the end of the season."
Since Romanov announced that the club had to be self-sufficient and could no longer rely on his financial input as he sought a buyer, Hearts have been looking to cut costs and were plunged into a row over the late payment of wages to players.
An exodus of players was expected in January and midfielder Ryan Stevenson joined Ipswich Town, while Calum Elliot was released and fellow striker John Sutton is poised to join Central Coast Mariners on loan.
But, of the first-team squad, only defender Eggert Jonsson, who joined Wolves, generated any transfer cash.
"Everybody knows we needed to make some money and we didn't," said Sergio, whose own contract ends in the summer.
"Our board has to work harder to find the money elsewhere.
"I'm worried, because I know the reality.
"The club needs to make some money, so it's always a difficult situation.
Sergio believes more players could still leave as, although no more transfers can go ahead in western Europe until the summer, there are other areas, like Russia, that have different transfer windows.
"What I believe is we need money, if it's selling players, equipment, whatever, I don't know," he said while recognising that some players might have no interest in moving so far away.
"The European market is closed, but other markets are open. We will see what happens.
"I'm sure some of them will be more focused now, with the summer, because those kind of markets have no interest for them.
"They have to wait until the summer to make the next step.
"I believe they're going to be committed, just thinking about football until the end of the season.
"We're living all this season with lots of problems, but I have a strong feeling I'm working at a very good club. I'm proud to be and to work at Hearts."