Kettering Town stave off HMRC winding-up petition
Last updated on .From the section Football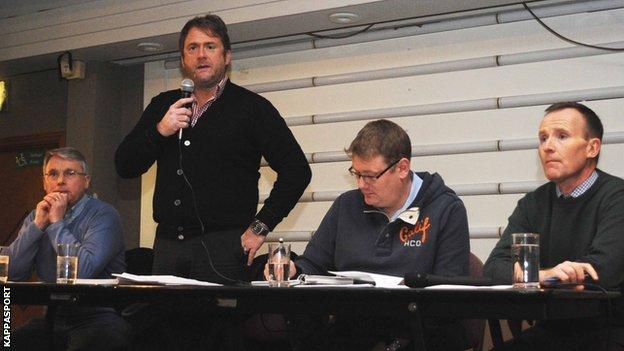 Kettering Town have deferred a winding-up petition brought by HM Revenue & Customs for eight weeks.
The club state that a 'substantial payment', assisted by main sponsor ID Medical, has ensured that Monday's petition will not wind up the club.
But former director Lee Thorn, who may be about to join a board to run the Blue Square Bet Premier club, said: "By no means has this solved the problem.
"We need all the help and support fans can give us."
He continued: "Costs are spiralling out of control. We need to raise £40,000 by 28 February."
Alongside Thorn, former director Ken Samuel and Supporters' Trust chairman Mark Severn have agreed to take positions on a five-man board, if new investment is not forthcoming.
Current chairman Imraan Ladak and minority shareholder Ray Khan would make up the rest of the board, with each party having a 20% vote on major decisions at the club. Trust treasurer Mike Quinn would take a role as financial controller.
However, a 'heads of terms' agreement is said to have been drawn up between an unnamed investor and the chairman, although the legal process to complete the deal can potentially take "weeks or months", according to Samuel.
"We wanted to make it a positive meeting and try to look forward," said Samuel, who had left the club as a director in May 2011.
"We've had an assurance that the existing shareholders will cover the HMRC situation, and whether we, as the Trust, have to raise money to help remains to be seen.
"The [club's] lack of communication has held everybody back, and at least things are now out in the open. It gives the club a chance to survive.
"But without support, and a considerable amount of hard work, the club will fail."
Fans at the meeting raised more than £1,100 to pay Task Force, the company responsible for stewarding at matches.
The Blue Square Bet Premier club have been subject to a player registration embargo since November, as a result of failure to pay football creditors, including players.
The squad are currently owed one month's salary, and are due to receive their next set of wages on 5 February.
Thorn stated that chairman Imraan Ladak had agreed that 50% of the gate receipts from the matches against Forest Green Rovers and AFC Telford would go directly to the players, with the rest being used for urgent bills.
The Kettering Town (Poppies) Supporters' Trust have also paid £3,124 owed to Southend Manor for outstanding FA Cup receipts.
"We had a moral obligation to pay that bill," said Trust chairman Mark Severn.
A £750 fine to the Football Association is also being paid by the Trust.
"The fans should have a say, should be involved in the running of the club and make a financial contribution," said Samuel.
"For too long, it's been left to one individual and we have to take responsibility."