Jose Mourinho plots next move in power struggle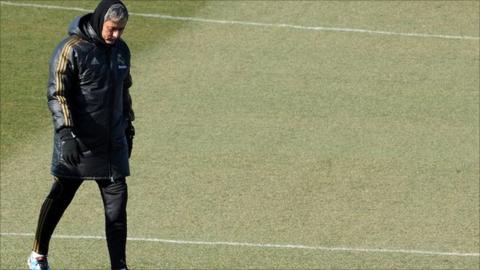 Every March, the Valencian festival of Las Fallas is based around a parade of floats, usually effigies of popular and culturally significant figures. In the festival's climax, the figures are set alight in the street.
Saturday's edition of Spanish sports newspaper Marca carried a photo of one of this year's prominent models. It depicts a caricature Jose Mourinho with his finger in the eye of a counterpart Tito Villanova, Barcelona's assistant coach. At the same time, the model rests his foot on the head of Jorge Valdano, the deposed Real Madrid sporting director.
This image of a dominant Mourinho has been under some scrutiny of late. Valdano's summer departure from the Bernabeu was a signal that the Portuguese coach had won the power struggle.
This week's reports in the British press that Mourinho is plotting his own exit suggests otherwise. It is safe to assume the whispers started from the coach's own entourage, as an expression of his dissatisfaction with at least some elements of his current working environment.
The pro-Madrid media have done little more than relay the speculation from England of a return there. There has been a climb-down from the criticism that followed the first leg defeat to Barcelona in the Copa del Rey, partially due to Real's seven-point lead in La Liga.
Now Mourinho has made his move, the whole of Spain is observing him closely. As is habitual, Spanish broadcaster La Sexta analysed everything going on around the pitch following the highlights of last Saturday's win over bottom club Real Zaragoza.
We sat through repeated replays of Xabi Alonso tapping hands with the coach after being substituted. Was it a full low five, or just the most token of acknowledgements? How much eye contact had there been between the pair?
This relationship is seen as key to Mourinho's position. His questioned rapport with the senior players from the Spain squad has brought the strength of his position into question. Some insist there is a rift between the Spanish and Portuguese-speaking elements of the squad.
This, of course, conveniently overlooks the fact that Mourinho has crossed words with most of his players at some stage in the past. Even Portuguese defender Ricardo Carvalho, his trusted on-pitch lieutenant, had his intelligence questioned by the boss after one 2005 dispute when the pair were at Chelsea.
The suggested return to Stamford Bridge has never been as far-fetched as some have suggested. Blues owner Roman Abramovich started to build bridges with the sacked coach relatively quickly after his 2007 departure. The Russian's February 2008 gift to Mourinho of a limited edition Ferrari 612 showed gratitude for his previous work, but also smoothed the way for future collaboration.
Perhaps the biggest stumbling block to a Chelsea comeback is the team's current state of flux. Having inherited established squads at Chelsea, Inter and Real Madrid, the coach has not performed major surgery on a team since Porto, back in 2002.
An opening at Liverpool - from whom Mourinho declined an approach in 2004 before joining Chelsea - seems unlikely, as is the case with Manchester United. With Tottenham and Arsenal unlikely to meet his salary expectations, the one suggestion from Madrid this week that holds the attention is the mention of Manchester City.
This would see Mourinho inherit a very similar situation to the one he did at Chelsea. Having supplanted Mancini at Inter in 2008, it would also be a case of history repeating itself.
Certainly one can imagine the Portuguese relieving the pressure on a side of title challengers somewhat more skilfully that Mancini could after this week's defeat at Everton. The Italian's relationship with the City board is, however, strong.
With significant barriers to all of these possible routes back to England, we should not rule out a stay in Madrid for now. His PR campaign has been careful to burn no bridges, and has certainly given Madrid something to think about.