Renard hails "efficient" Zambia after win over Sudan
By Matthew Kenyon
BBC Sport, Bata
Last updated on .From the section Football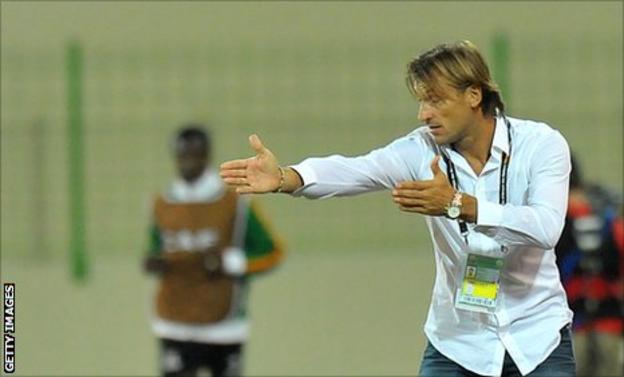 Zambia coach Herve Renard has hailed his team for the "efficient" way they sailed through to the semi-finals of the Africa Cup of Nations.
The Chipolopolo beat Sudan 3-0 in Bata on Saturday and go through to face either Tunisia or Ghana in the semis.
"I don't say we played well, but I say we did well," the French coach told BBC Sport after the game.
"We were efficient today. Some people might have thought it was easy - it wasn't."
The match was played out in an almost empty stadium in Bata and Renard admitted that this made it harder for his team to raise their game.
"I told the players there are millions of Zambians [watching on television] and people around Africa, Europe and the world," Renard said.
Chipolopolo captain Chris Katongo, one of the goalscorers on the night, admitted that Sudan's tactics had made life difficult for his team, even when they were leading.
"Sudan try to frustrate you (and) play the long ball - that's their strength," he said.
"That's not our type of football, but the most important thing was for us to get an early goal and start playing on the ground.
"In the second half we controlled the ball, scored two more goals and the way we played was fantastic."
Zambia were knocked out in the quarter-finals two years ago and their aim at this tournament was always to go better than that.
With that target achieved, they are setting their sights on another - a place in the final in Gabon - off whose coast most of the national team died in a plane crash in 1993.
Renard said the incident is a strong motivating factor for his squad, especially as Wednesday's semi-final will be played in Equatorial Guinea.
"We have another target - to reach Gabon on 12 February for the circumstances we know, the catastrophe of 1993," the coach said.
"That will be another sign for the destiny of Zambia - but it's far [away] at the moment."