Rangers fans face a test of loyalty as performances dip
By Alasdair Lamont
BBC Scotland
Last updated on .From the section Football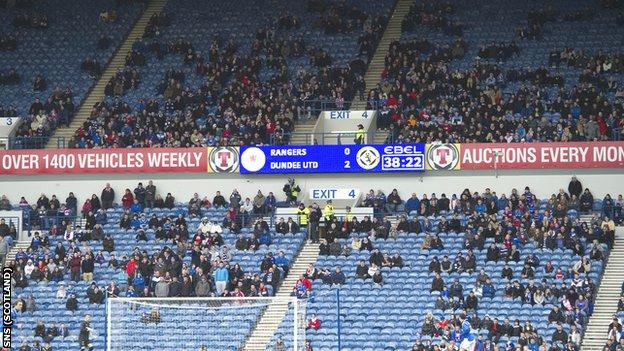 Little over a week ago, former Rangers manager Walter Smith warned of a return to the depths of the early 1980s for the club.
The product on the park also bore certain hallmarks of the pre-Souness era, although the team still boasts individual players like Allan McGregor and Steven Davis who do not belong in that bracket.
But if the performance was a sign of things to come, the Rangers fans may continue to stay away.
It would be facile to claim that the Ibrox turn-out was simply a result of a turbulent week at the club, with the sale of Nikica Jelavic and off-field mud-slinging between board members past and present.
Mitigating circumstances include the timing of the match and the cost of attending, but a malaise has set in, with some supporters expressing their dissatisfaction by spending their cash elsewhere.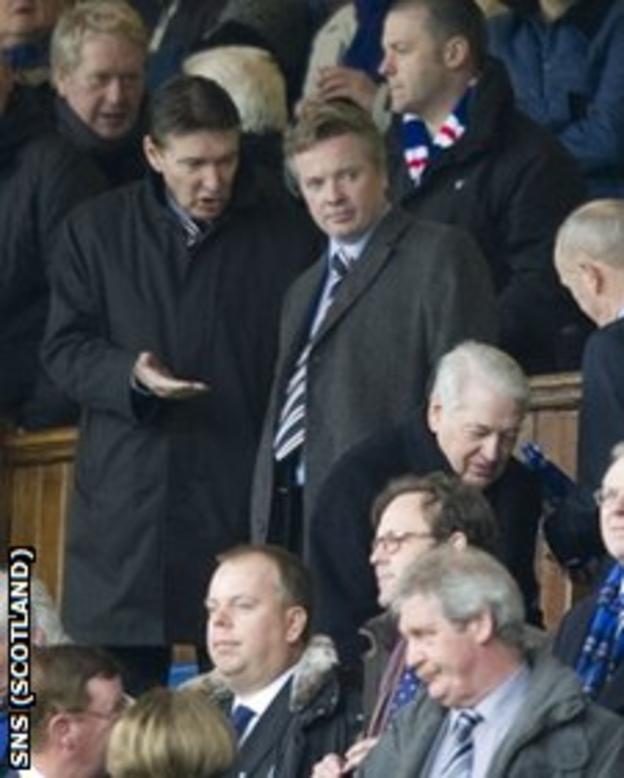 Rangers fans are not alone in that regard; stadiums all over Scotland are regularly less than half full.
But it would be equally naive to believe that the team's seemingly dwindling ability to remain competitive this season had no part to play in the decision of thousands to watch on television, or perhaps not to watch at all.
Rangers remain just one point behind Celtic in the Scottish Premier League. Having been written off by many in previous seasons, only to go on and win the title, they and their supporters would take great delight in rubbing the doom-mongers' noses in it again this May.
However, on current form - and given Celtic's recent run of results - that looks a forlorn hope.
McCoist's playing resources are now so limited that a fourth consecutive title would surely rank as the most impressive the club have won, certainly since the Souness years.
Jelavic's departure and the mortgaging of future season-ticket sales are, according to Rangers owner Craig Whyte, necessary evils as the club goes through a transitional period, on its way to becoming a self-sustaining entity.
That period could be a particularly painful one for the fans if it means further deterioration of the playing squad.
Even in the best-case scenario with regard to Rangers' battle with HMRC, where the club escapes no worse off financially, Whyte has spoken of a £10m annual shortfall.
He believes he can bring Rangers through this crisis, but crucial to his hopes is the backing of the supporters.
Their loyalty and desire to pour money into the club will be severely tested if they do not see a reasonable return on that investment on the park.