Reaction to Fabio Capello's comments
Last updated on .From the section Football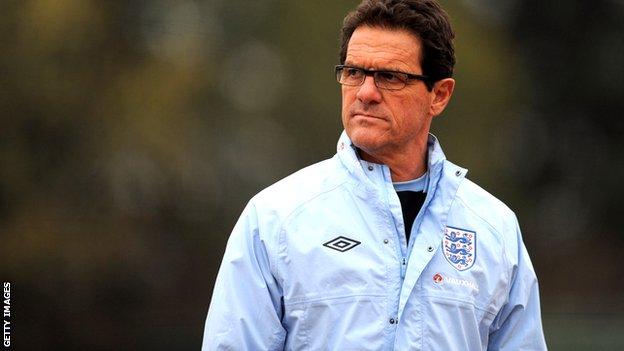 England coach Fabio Capello has spoken out in defence of John Terry and publicly criticised the Football Association for stripping the defender of the captaincy.
Chelsea skipper Terry is due to stand trial in July over the alleged racial abuse of QPR's Anton Ferdinand.
On Sunday, Capello said to Italy's state broadcaster RAI he "absolutely" did not agree with the decision.
Former FA executive director David Davies told BBC Radio 5 live: "My understanding - and I've talked to one or two very senior people at the FA in the last 24 hours - is that this matter with Capello is regarded very seriously. He may well have breached his contract.
"There is collective responsibility at the FA and there is a view that publicly this sort of matter shouldn't be aired in this sort of way. It will be for others to know the fine print of Capello's contract and I suspect people will look at it.
"There is strong leadership now at the FA from David Bernstein. Last week, he wasn't slow to take things forward and he may not be slow to do so now."
"This timing is of nobody's choosing," says one-time FA chief executive Mark Palios on 5 live's Your Call phone-in programme.
"I'm not an apologist for the FA. I've heard people talk about this being potentially a breach of his contract. I would think the FA will do nothing on that, because we're close to a tournament and you don't want to have a real fight with the manager."
Graham Taylor, who managed the England national side for three years between 1990 and 1993: "I can't see what Capello's agenda is. All it does is disturb everything even more. It may be that he wants the FA to take a decision on this job. It depends really on how strongly he feels about it.
"To come out in this public fashion actually, in one respect, gives England an even bigger problem for the selection and harmony of the squad for the European Championship."
Former England international Chris Waddle, capped 62 times by his country, told 5 live Drive: "This is about lack of communication. England don't need anything like this going into the Euros. Capello is the manager and picks the team and he should have been informed.
"The case hasn't even been heard yet. Why are they punishing Terry? He's not been found guilty.
"I've never been a big fan of captaincy. A captain tosses up a coin, shakes hands, does a few more press conferences. Whenever you get out on the pitch you find our who your real leaders are, and it's not just someone who wears an arm-band."
BBC Sport's chief football writer Phil McNulty: "It was widely accepted that England coach Fabio Capello was unhappy at the FA's decision to strip John Terry of the captaincy - but to go public with his concerns may be regarded by the hierarchy as unhelpful and likely to prolong the debate.
"The FA will not, however, be going back on the decision so Capello must accept it and move on if England's preparations for Euro 2012 are to progress with any degree of calmness.
"And, of course, Capello's public loyalty and faith in his deposed captain may also be seen as undermining the credibility of his eventual successor."
BBC Radio 5 live's chief football correspondent Mike Ingham: "Capello has come out so strongly for John Terry, he'll feel even more obligation to select him as a player now. By doing that, does that effectively compromise Rio Ferdinand? It's a real hornet's nest.
"Whoever becomes the new captain now knows that he's not going to have the wholehearted approval of his manager."
Professional Footballers' Association and their chief executive Gordon Taylor on 5 live Breakfast: "Speaking to [FA chairman] David Bernstein the position had been made clear to Fabio Capello and you would expect that, if employers had made that decision for a bigger picture, he would have followed that.
"It's going to make it embarrassing now for whoever it is who is made England captain now the manager's view has been made public.
"The FA has handled a delicate situation as delicately as possible and they will feel undermined to say the least by the manager coming out and disapproving of their decision.
"It's a real stand-off. It's not good and not what England wanted before the European Championships. I cannot understand why he [Capello] came out so blatantly against the decision.
"It asks a question of the unity of the FA and makes it difficult for whoever takes over the captaincy.
While former England international John Barnes felt Capello had been undermined by the FA's move.
"The FA was wrong," Barnes told BBC Sport. "You cannot say he [Terry] can be in the squad but he cannot be captain."