Portsmouth's players have still not been paid January wages
Last updated on .From the section Football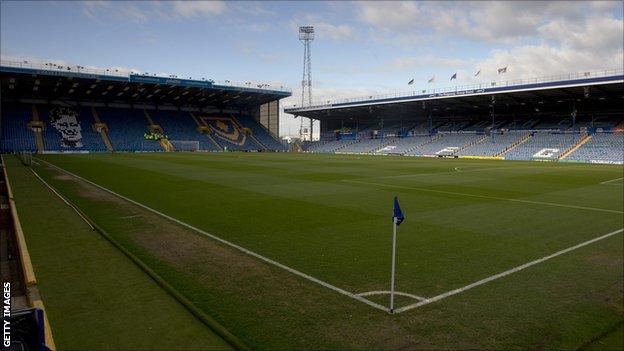 Portsmouth players are still owed their January wages despite ex-owner Balram Chainrai claiming he had covered them, boss Michael Appleton has confirmed.
The club were issued with a winding-up petition by HM Revenue and Customs on 3 January and will appear at the Royal Courts of Justice on 20 February.
Pompey have had their bank accounts frozen as a result and have so far failed to gain a validation order.
Chainrai says he is flying to the UK to sort out the stricken club's future.
"Not many people would do this, but we wanted to help sustain the club through this difficult period," he told the South China Morning Post.
"I've very happy memories of Portsmouth FC and don't want to see it go under."
But manager Appleton told BBC Radio Solent that as of Monday, the players and staff had still not been paid - by the club or Chainrai.
"At the minute we haven't got the validation order. Once that is done and the account is unfrozen we can pay the players," said Appleton.
The Hong Kong-based businessman, who owned the club with Israeli Levi Kushnir through a company called Portpin, is still owed £17m.
"I'm still in a good position," he added.
"I still have a debenture over the club as security on the club's full assets, so one way or another I'm going to get my money back.
"But I don't want to see the club liquidated. Anything I can do to help Portsmouth I will."
Pompey's parent company, Convers Sports Initiatives, entered administration in November, forcing the Championship club to search for new owners.
Administrator Andrew Andronikou revealed that Pompey have missed two tax payments of £800,000 to HMRC.
There is an urgency to complete a deal with fresh backers, as investment is needed if Portsmouth are to meet ongoing running costs.
BBC South understands that any purchaser would need to provide £12m as proof of funds, and assurances they could meet another £20m in repayments to former creditors, Chainrai and Alexandre Gaydamak.
Appleton says motivating his players during their troubled few weeks has not been difficult and paid tribute to the other staff at Fratton Park.
"From our point of view we don't see this as a long-term problem and the players are respectful of that," Appleton told BBC Radio Solent.
"They are professionals and some of them have been through this before.
"We used to play football because we loved the game and didn't get paid for it, so sometimes you have to remember that. That helps put things into perspective.
"The players have to remember there are people that don't get to step onto the field of play who haven't been paid either and they are still turning up to work with smiles on their faces."