Nigel Doughty leaves strong legacy at Nottingham Forest
By Colin Fray
BBC Radio Nottingham Sport
Last updated on .From the section Football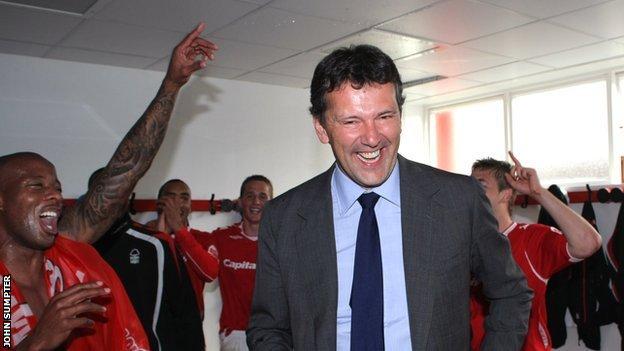 Nigel Doughty was a man who loved Nottingham Forest and always had their best interests at heart.
He was the first to admit he made mistakes during his reign as chairman. But perhaps that just goes to show the humility of someone almost universally described in glowing terms following his untimely death on Saturday.
Whether Forest fans agreed with his footballing decisions or not, the tributes all fondly remember a "gentle giant" who was kind, generous, unassuming and humble in equal measure.
His ever-smiling presence has certainly been missed at the City Ground over the past few months.
The tall and amiable figure had been, to coin a footballing term, a virtual ever-present for Reds matches throughout not only his time in charge of the club, but prior to that as a fan.
Doughty's association with Forest goes back to his days as a schoolboy in Newark. By the time he had taken on responsibility for financially supporting it and running it, he had been a season-ticket holder for 40 years.
What many perhaps do not know, is that on the rare occasions when he was forced to be away from a game, he would watch it live via an internet connection, listen to it on the radio, or both.
When neither of those have been possible, when he has been in some far-flung corner of the globe, I have known him go to extraordinary lengths to rig up some kind of phone connection next to a radio, just to ensure he could keep across his beloved Reds.
How sad it is, then, that he died feeling that after the events of last October, when he stood down as chairman, he was no longer able to show his face at the City Ground. The last time he saw them in the flesh was in that dismal defeat by Birmingham City that day.
Nigel Doughty was a private person. He shunned the media spotlight, and so it was several years after he took over that pictures of him even emerged.
Radio and television interviews were something he tolerated on an occasional basis. He preferred to let his manager do the talking and his players do the playing, but when he spoke, people listened.
Knowing this, I will never forget the pleasant surprise on a cold winter's day at Oldham, when standing chatting to him near the tunnel before the players had arrived, he turned to me and said: "Do you want to interview me, then?"
It was by no means our first or last chat across a microphone, but in terms of unexpectedness, it was certainly the most surprising.
An £11million investment back in 1999 ensured Nigel Doughty's place in Forest history. That money kept Forest afloat. It staved off the very real and imminent threat of administration, but it was far from the end of his financial commitment.
In addition to that first tranche of money, £64million had been loaned, without a penny in repayment, up to the last published set of club accounts. After his withdrawal from the chairman's post in October, his promise to honour all his liabilities adds an estimated further £25million to the total.
And if one part of his legacy is the very existence of the club, another is the vastly improved academy for young players. Always close to his heart, coaches at the club acknowledge that his money has turned the Reds' academy into a place much admired within football.
Critics have pointed to a failure to achieve his stated objective: to return the club to the Premier League. It hurts supporters that he was unsuccessful in that aim.
As a supporter, and as a man who has done more financially for the club than anyone on the planet, imagine, then, how much it hurt him - not only to see them still in the Championship, but languishing at the foot of it?
Nigel Doughty was a man I found to be friendly and full of smiles. I will miss his cheery wave from the directors' box.
If Forest want to find a fitting tribute to the man to whom they owe so much, staying in the Championship would be a very good place to start.