Plymouth Argyle investigate Home Park racism claims
Last updated on .From the section Football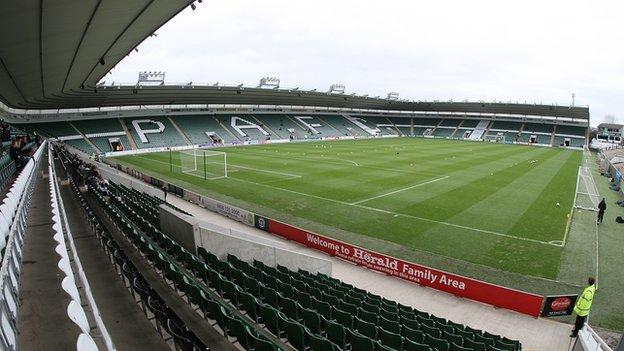 Plymouth Argyle are looking into an allegation that a Southend player was racially abused in the League Two match between the sides on Saturday.
A club statement said: "We have received a number of complaints relating to crowd behaviour during Saturday's game.
"We are currently conducting a thorough investigation into these complaints."
Argyle say they will issue a full statement once the investigation has concluded.
In a statement the Plymouth Argyle Fans' Trust says it has also been made aware of the allegations.
"The Argyle Fans' Trust is aware of a small number of incidents this season involving unacceptable and often aggressive chanting or comments.
"That includes comments many would understand to be racist or homophobic in tone.
"On Saturday an incident involving abuse coming from a supporter towards the Barn Park end of the Lyndhurst stand was reported to the police by a Trust member.
"Our message to any so-called fans who cannot put aside their own bigotry for 90 minutes is simple: you are not welcome at Home Park.
"The Fans' Trust will be approaching the club to ensure that a robust system is in place for reporting such behaviour, but in the meantime we would urge any other fans who witness it to report it, in confidence, to the club or the Trust."
After the game Argyle boss Carl Fletcher praised the passionate support of the fans as Argyle came back from 2-0 down to salvage a point.
Plymouth Argyle president Chris Webb founded the Forza Verde 1886 organisation, a group of fans aiming at reigniting the atmosphere and passion at Home Park, after the club almost went out of business last year.
"We aim to support the team, bring back 'fortress Home Park' and bring a vibrancy and noise that has been lacking for too long," Webb said.
"At no time have or will Forza Verde support any anti-social, racist, homophobic or aggressive behaviour.
"Such behaviour is not welcome and has no place at Home Park or in wider society.
"My beliefs and values are such that it makes me sick to the pit of my stomach to imagine anyone being discriminated against for any reason."