Dexter Blackstock leads tributes to Nigel Doughty
Last updated on .From the section Football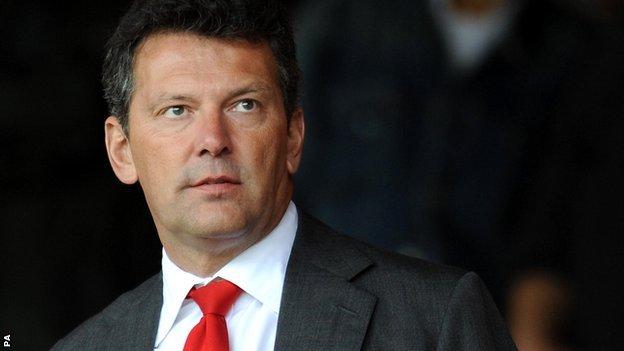 Nottingham Forest striker Dexter Blackstock says his abiding memory of Nigel Doughty is of a man who remained humble despite his wealth and success.
The Reds owner, whose personal fortune was estimated at around £130m, died at his Lincolnshire home on Saturday.
Blackstock said: "Before you meet these people, maybe you think they will be ruthless and a bit arrogant.
"But Nigel was such a nice, nice man. I have never known anybody ever say anything bad about Nigel Doughty."
Doughty, 54, ploughed upwards of £70m into the club he supported from childhood.
But Blackstock said Doughty's financial backing only told part of the story.
"Nigel Doughty gave so much for the club and had so much passion for it," the former England Under-21 striker said.
"He loved everything to do with the football club. He would come into the changing rooms and he would just mingle in and you wouldn't know he was the chairman of the club.
"I will remember him as a great man. Put aside all the money he put into the club - that is one thing - but his love for the club was even more than the money and that is what will always stick with me.
"He looked like he didn't have a bad bone in his body. To be so successful in a cut-throat business and to keep his personality and be so kind to people was a credit to him."
Forest goalkeeper Lee Camp said: "It was terrible to hear. He was larger than life, with his position in society and the the size of him.
"He was a Nottinghamshire boy, he was self-made. He will go down in Nottingham Forest's history and the football club should always be indebted to his commitment.
"Nigel was a friendly, warm and humble man. He was a gentleman, he always took his time to speak to you and always made you feel welcome.
"From the day I walked into the football club he was great to me."
Captain Luke Chambers was another player devastated by Doughty's death.
"I feel utter shock," he said.
"I have known Nigel pretty well over the last five years. My wishes go out to his family and friends. He signed me and every time I met him he only had good things to say. My relationship with him was first class. I could not speak more highly of the man, and what he did for the club.
"He came in when the club was in a bit of turmoil and steadied the ship. We can look back on his time as a successful time.
"He can only be remembered in a positive light. What he gave to the club from his own personal wealth and his time can never be forgotten. Only good things will ever come from when Nigel Doughty is in the conversation."
Garry Birtles former Forest striker and tv pundit told BBC Radio Nottingham: "I'm overwhelmed and stunned. It's tragic.
"He'll be remembered with a great deal of fondness. He's a Forest fan and when he came the club was in need of massive help financially. He is not a consortium. He put about £70m or £80m of his own money in. He backed the football club and tried to get it into the Premier League.
"He has been a fantastic benefactor to the club. I just hope everybody remembers that and realises what position the club would be in if he hadn't taken over when he had.
"This puts football into perspective. Who cares about about football when you hear this tragic news about Nigel Doughty?
"He never courted publicity or limelight, he let other people do that. He was a softly spoken man, very family orientated and loved the football club. He was a very successful businessman but never bragged about it.
"He never came across as anything other than genuine."