Fifa emergency loan ban: End of football's borrowers?
Last updated on .From the section Football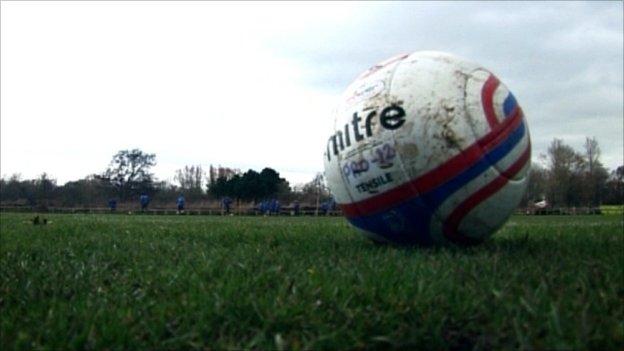 It is fair to say Carlisle United manager Greg Abbott is not a fan of Fifa's plans to scrap the emergency loan window in 2014.
Under Abbott's tenure the Cumbrians have made good use of the system, bringing in players from Premier League clubs including Manchester City, Manchester United and Sunderland to bolster the squad.
In addition players such as Adam Clayton, James Chester and Chris Chantler all found permanent moves away from the top flight following their loan stints at Brunton Park.
Yet in two years time such deals will no longer be allowed.
"It's an absolute outrage," Abbott told BBC Late Kick Off.
"For us it would be a disaster and it would crucify us financially. We know at the start of the season the revenue is not going to be there so we have to gamble.
"We either go with a small squad, or overload the squad with players and financially we cause the club a problem.
"I don't think there's been a lot of thought gone into it."
The intention of the emergency loan system is to allow Football League clubs, with their lesser resources, to add to their squad in the case of injuries and suspensions outside of the summer and winter transfer windows.
Both Newcastle and Sunderland have made use of the mechanism to give players on the fringe of the first-team an opportunity to play competitive football elsewhere.
James Tavernier joined Carlisle from Newcastle when Frank Simek picked up an injury early on in the season, while Sunderland have regularly sent players on loan to lower division clubs for first-team experience.
"For our younger players the experience they gain out on loan is essential for them to play at the level we're at," Magpies boss Alan Pardew said.
His Sunderland counterpart Martin O'Neill added: "We are loaning some players out at this moment to Championship and Football League teams to further their education.
"It's great, and hopefully they can come back having played five or six games, and are getting themselves prepared for the Premier League which can only be good news."
Not all clubs are concerned by the proposal.
Hartlepool United profited from the emergency loan of Blackburn Rovers goalkeeper Jake Kean, who impressed when injuries to Scott Flinders and Andy Rafferty hit last season.
However, chairman Ken Hodcroft believes the current transfer windows offer clubs suitable opportunities to strengthen.
"If the system is taken away I think a club like ours would be fine," Hodcroft said.
"A lot of clubs depend on loans, again it's up to running a business.
"If you're not capable of getting the right players, and you end up struggling then perhaps you haven't done the business right at the beginning."
One potential upshot of scrapping the system could be felt at youth team level, with the possibility of increased exposure to first-team action for academy prospects.
"Clubs are going to start looking at their youth systems. If they can't loan a player when they get injuries and suspensions, maybe they have to dig deep into their own resources," Middlesbrough boss Tony Mowbray said.
"Taking away loan systems will force clubs to play their young players. It's a pressure that sometimes brings the best out of some - you'll never know how they'll react until they're out there in front of a crowd."
Fifa have called for a consultation period to consider the current transfer window structure, and Abbott has made his position clear.
"The bigger clubs might just get away with it, but for the smaller clubs it will be a torrid thing to happen," he added.
"It doesn't make any sense to me whatsoever. If that's the case then they must scrap the window and allow us to do our business the whole year round."
You can see the whole episode of Late Kick Off in the North East & Cumbria on BBC iPlayer.