Landon Donovan enjoying second loan spell at Everton
By Paul Garrity
BBC Radio Merseyside
Last updated on .From the section Football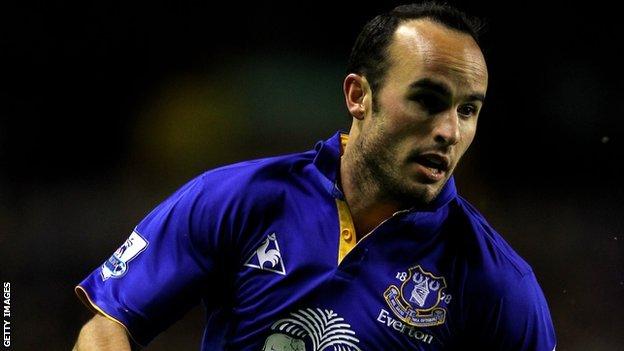 Everton's on-loan midfielder Landon Donovan says he has found it easy to settle into life on Merseyside during his second spell at Goodison Park.
He has made eight starts during this stint and can play two more games before returning to the United States.
"Last time I came over it was easy. I'm not sure why, but this time it was even easier," he told BBC Radio Merseyside.
"I got here just before New Year and I was able to travel with the team to the West Brom game and just be around the guys and take it all in again.
"That was a big boost going into the Bolton game and I felt really comfortable.
"In the early part, when things don't go your way, it's tough. You kind of live and die by the results sometimes.
"In the last couple of weeks we've played a lot better and we've got some really important results, which has been good for everyone," the United States international said.
Everton's next match is at Goodison Park on Saturday against Chelsea, who drew 3-3 with Manchester United last weekend.
Donovan played in the same fixture two years ago, helping David Moyes's side record a 2-1 win by setting up the equaliser for Louis Saha.
"That was a really special night last time for me and for the team," Donovan continued.
"They've come off an interesting result against Manchester United. It will be an interesting game to see how they respond to that.
"We feel good in how we're playing, we like how we're playing right now and our form has been pretty good. So it makes for a really good match-up."