Nations Cup semi-final and final only '70%' sold out
Last updated on .From the section Football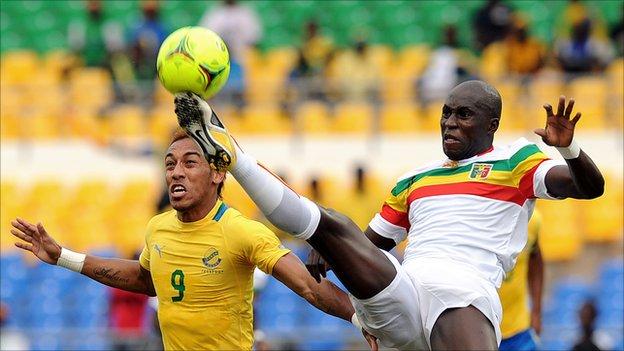 Africa Cup of Nations organisers say that nearly a third of tickets are still available for Sunday's final in the Gabonese capital Libreville.
The head of communications for Gabon's organising committee says that the semi-final between Ivory Coast and Mali on Wednesday has also yet to sell out.
"Until now, we have sold 70% of tickets for the final and semi-final," said Louis Claude Mounzeo Koumba on Tuesday.
"We've a meeting this afternoon to see how to give these tickets to people."
"So there is no problem - we will have fans in the stadium for the semi-final and final," he told BBC Sport.
Koumba explained that partners of the organising committee wish to buy more tickets, which they may then distribute for free - as happened for Sunday's quarter-final in Franceville.
Despite the offer, the match between Ghana and Tunisia - which the Black Stars won 2-1 - was far from full.
Yet with Ivory Coast supporters set to total some 7,000 inside the Stade de l'Amitie, Koumba expects more spectators on Wednesday, even if he refused to be drawn on whether the stadium would be full.
The Libreville arena, which will host the second semi-final after Zambia meet Ghana in Wednesday's first game in Equatorial Guinea, can hold some 40,000 fans.
"Don't be afraid - the whole thing is under control," Koumba added. "So there is no problem: we will have fans in the stadium for the semi and the final."
Unusually, the most expensive tickets for both the semi-final and final have sold out, while the cheapest seats are still available.
Empty seats have long been a feature of many Nations Cup tournaments, with games that do not involve the host nation often very poorly attended.