Marian Kello hits out in Hearts selection row
Last updated on .From the section Football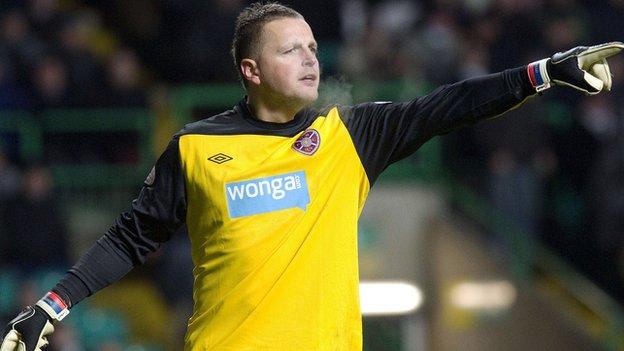 Marian Kello insists he will give his all for Hearts but the Slovakian goalkeeper fears he will be overlooked for the rest of the season.
The 29-year-old was left out for Sunday's Scottish Cup draw with St Johnstone following his refusal to accept a transfer to Austria Vienna.
"I've tried to be honest and fight for the club and they just try to put me down all the time," said Kello.
"I don't know why. I try always my best for the club."
Hearts manager Paolo Sergio admitted that the decision to omit Kello at the weekend was "a political thing".
And with the media assembled for a media conference to promote Wednesday's visit to Celtic, the keeper opted to hold an impromptu briefing of his own to tell his side of the story.
The Slovakia international, who is out of contract at the end of the season, said: "I've been reading in the papers and everywhere that I'm not committed to the club, which for me is totally nonsense."
Asked if he feared reprisals for speaking out, Kello said: "I had to say something, because I've seen all the mess that is in the papers. I don't agree with it, so I needed to say how things are.
"They [the Hearts board] might do something, I don't know. I will protect myself."
Kello has been at Tynecastle since agreeing an initial loan move from Lithuanian side Kaunas in August 2008 and was a stand-out performer for the club last season.
However, Hearts are eager to reduce their wage bill and had accepted a £83,000 offer from Austria Vienna for Kello.
"I want to play for Hearts," he added. "They said they don't want me next season, because of the money problem, they want to work with the youngsters.
"The club have signed two young keepers, I've been told. I don't figure in the future of the club. I was not offered a new contract.
"They forced me to go and they were saying 'If you don't go, you might not play'.
"Last time we discussed the situation it was 31 January and after that it was just the manager who talked to them, to try to convince them to let me play."
Kello had missed training last week with a back complaint but made a point of warming up for the Saints match and was fit to play.
"I didn't train on Thursday or Friday because of my back, but that wasn't the issue," Kello continued. "If I have a chance to play, I will play.
"I will play 100% because it was the club who gave me the chance to be here, to improve and to get into the national team.
Kello played down links with Celtic, saying he believes he would not be first choice with the Scottish Premier League leaders.
He explained: "It's not like I don't want to be playing. It's not like I want to go to Celtic, which is in the papers. I would sit there on the bench in the Scottish league. For me there's no point."