Off The Bawl - 5 February
Last updated on .From the section Football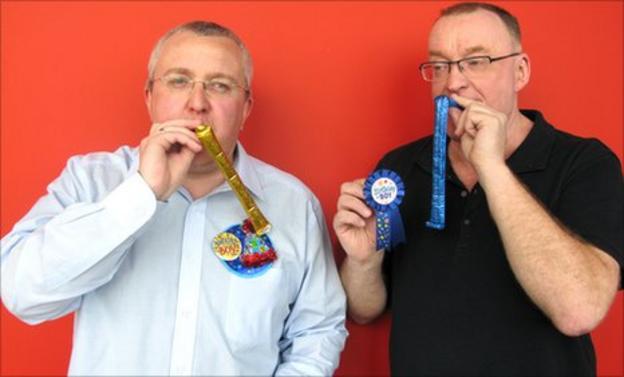 Greeeeeetings!!! If we discovered nothing else on Saturday's show, at least Tam and Stuart were finally put straight on the Hibees/Hibbys debate.
According to Allan in Galashiels: "The club is the Hibees and the fans are the Hibbys."
Thanks for clearing that up, Allan.
Meanwhile, in the company of Colin MacIntyre (aka The Mull Historical Society) we had two main talking points.
Births, deaths and marriages involving your club - at the funeral of Stuart's mum on Friday, our resident St Johnstone fan made sure Oh When The Saints was the final hymn at the service.
The Baths - as Peter Mullan (a former OTB studio guest) re-opened the Govanhill public pool in Glasgow, what are your memories of going for a swim?
In tribute to The Mull Historical Society, our Team of the Week was The Islands XI.
And we played out with a song for (who else?) Craig Whyte.
Here's another selection of the most petty and ill-informed texts and emails on radio...
BIRTHS, DEATHS & MARRIAGES
Anon said: "When my dad passed away the hearse was bedecked in Hearts scarves. Nowadays that picture would probably have folk thinking someone was making a statement about the club."
Roondie in Dundee said: "My dear dad passed away last June. He was a big Hibby and, as a tribute at the funeral, they played Sunshine On Leith as the coffin was being lowered."
Paul McLaughlin in Kilmarnock said: "The second song at my wedding was King Of Kings. It was great to see my bluenose pals singing along to a Henrik Larsson anthem!"
Stuart in Aberdeen said: "There's a video on You Tube that shows a guy getting married during the half-time break at an English ground. The crowd start chanting 'You Don't Know What You're Doing!' as the service gets underway."
Another emailer said: "When Rangers won nine-in-a-row, Walter Smith dedicated this achievement to my 30th birthday."
That came from regular listener Gordon Ramsay...
THE BATHS
Terry in Stirling said: "At the old Dollan Baths in East Kilbride there was a glass window which let you look into the deep end from the main entrance. Every now and again, some wee ned would swim down to the depths and flick a V-sign at the queue of folk waiting to come in."
Ann Marie from Edinburgh said: "I used to go to Calder Street baths in Glasgow. They had a big dug patrolling the poolside changing-rooms. All the kids were totally terrified."
Jim in Netherlee said: "Ah, the baths! I've never forgotten the thrill of reading the sign 'No Heavy Petting' as a kid and having absolutely no idea what it meant. I just knew it was something dirty."
Stu in Perth said: "Due to the water shortage in Ireland, the swimming pool in Dublin has announced it will be closing lanes seven and eight..."
Ross in East Kilbride said: "I can't believe the guy who contacted you earlier was offended by wee neds flicking the vicky out of the window at the Dollan Baths. From what I can recall, more often than not it was a bare a*&e or a pointy willy!"
Jim in Cumbernauld said: "The thing I really hated about the baths was wearing the hired trunks - they were always indredibly jaggy."
Tom Dornan in Coatbridge said: "On a school trip to the Aviemore Centre in 1975, I remember seeing a sign that read 'This ool has no P in it - please keep it that way'. All the kids thought it was the funniest thing we'd ever seen."
TEAM OF THE WEEK
The Islands XI (all the action on Skye Sports)
Manager: Malta Smith
Assistant: Stuart McColl
1/ Stefan Kos
2/ Ron "Chopper" Harris
3/ Charlie Mull-grew
4/ Tommy Pacific Ring Of Fire Islands (c)
5/ Christophe Barra
6/ Pat Staten
7/ Paolo Rothesay
8/ Fair Isle Berkovic
9/ Jordan Rhodes
10/ Paul Madagascoigne
11/ Karl-Heinz Rum-and-Eigg
Subs: Sicilian Petrov, Iwo Jima Johnstone, Cyprussell Anderson, Lewis Figo, Peter Uistra
AND FINALLY...
A song for Craig Whyte?
The Great Pretender (Big Bad John)
The William Tell Overture - aka The Loan Ranger (Andy Douglas in Perth)
The Theme from Titanic (Maria in Kilbarchan)
But we finished with a Beatles classic suggested by Big C in East Kilbride... Help!
PS. Stalker alert! Stalker alert! Stalker alert! Tam was genuinely scared by one email we received this week.
It was sent by Joe in Bishopbriggs and it read: "Never mind bankers and their bonuses - Tam must be on a fortune if he can afford newspapers AND paper hankies from WH Smith in Queen Street Station..."
Gulp!
To join in the fun on this Saturday's show, call 0500 929500, text 80295 or email offtheball@bbc.co.uk
Listen to the most recent Off the Ball programmes.
Download the latest Off the Ball podcast.