Coach Alain Giresse warns against Mali fear
Last updated on .From the section Football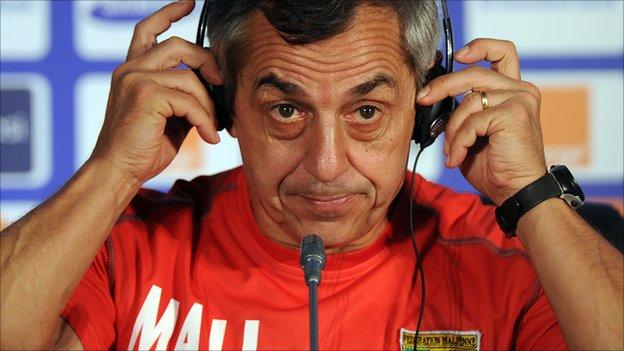 Mali coach Alain Giresse has warned his players that any inhibition could prove costly in Wednesday's Africa Cup of Nations semi-final against Ivory Coast.
The teams meet in a West African derby in Libreville, for the right to play Zambia or Ghana in Sunday's final.
"We know their stats and what they have achieved so far but there is no point in going onto the field if we do so with fear," he said on Tuesday.
Ivory Coast have won all their matches, scoring eight goals without conceding.
"The Ivorians are a team of quality and talent and they've shown great potential," added the Frenchman.
"But we must not take to the field with any fear. We must have respect and some humility but fear would be a killer."
Mali have a lengthy losing record against the Elephants but Giresse was swift to dismiss past comparisons at a news conference in Libreville.
"It's a new game. I feel sorry for those who are already making predictions. Let's first see what happens," he said.
Mali reached the last four for the fifth time in seven Nations Cup appearances, squeezing through on penalties in Sunday's quarter-final against co-hosts Gabon.
"We had two hours of intense football and there is still some fatigue for the players," said the 1984 European champion.
"We are not looking at miracles but rather to utilise what we have. If it needs to go to penalties again, I'll take that."
Giresse said his players had refused to practice penalty-taking before the quarter-finals in the belief that it was a bad omen.
"They insisted it had to be spontaneous but they took them very well," he said.
Mali won 5-4 in the shootout on Sunday to eliminate the co-hosts, who had been strongly fancied to reach the semi-finals before the game.