Port Vale late with repayments of £2.25m council loan
Last updated on .From the section Football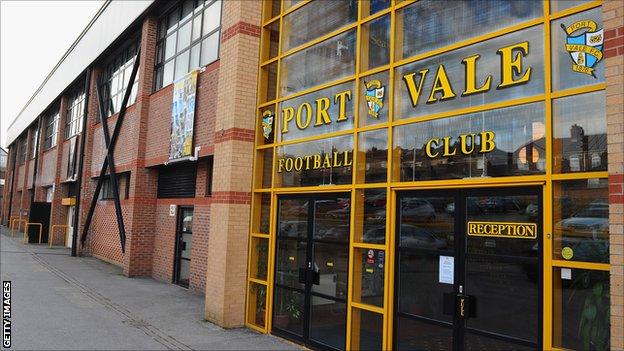 Port Vale director Mike Lloyd has confirmed to BBC Radio Stoke that the club have missed two repayment deadlines of a council loan.
"The payment [for December] was late going in, but that payment has now gone in and been cleared," said Lloyd.
"The last one [January] is slightly overdue, but as cash flow becomes available, we shall pay that as well."
Lloyd continued: "We've never missed a loan repayment all the way through. The council have been very good to the football club and they appreciate the difficulties."
Sarah Hill, Stoke-on-Trent City Council's cabinet member for finance, told BBC Radio Stoke: "They were paying very regularly.
"We've had the payment in December, but we haven't had the payment yet for January."
Vale's finances are a concern for the council, as the club have already twice breached the terms of their loan agreement.
They contravened the loan by taking out a second mortgage of £277,000 on Vale Park in December, and then failed to submit last season's audited accounts to the council before the agreed deadline.
Hill added: "It is a worry and everybody understands the difficulties the club is going through, but we also have a responsibility to our council tax payers.
"We all know the club is really struggling. They are keeping us in the loop with what's going on and they're clearly trying to sort it out.
"Of course we want the money back, but the last thing we want to do is make things more difficult for Port Vale at this current time."
In 2009, the council issued a two-year repayment holiday, which meant in that time, the club was only required to pay the interest on the loan.
Port Vale's supporters club have called for an Emergency General Meeting to take place in the near future, with the sole aim of removing Vale's four-man board - Lloyd, Glenn Oliver, Perry Deakin and Peter Miller.
Deakin and Miller left their positions as chief executive and chairman respectively in the final few days of 2011, while Deakin and Oliver have confirmed that they will stand down as directors at next month's AGM.