Cheltenham manager Mark Yates riled by Crawley's Steve Evans
Last updated on .From the section Football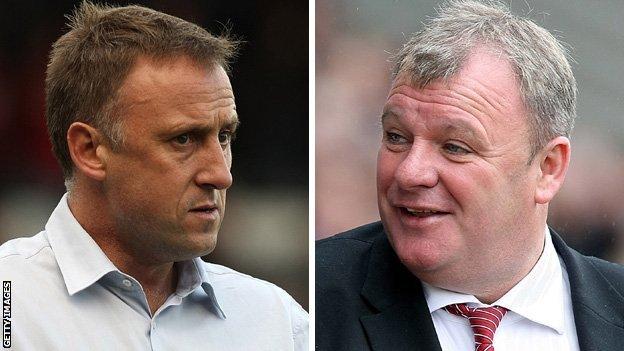 Cheltenham manager Mark Yates has criticised the behaviour of Crawley counterpart Steve Evans during the Reds' 4-2 win on Tuesday.
Both were sent to the stands after an altercation in the second half of the game, which saw Crawley leapfrog the Robins to the top of League Two.
"He got under my skin and I fell for it," Yates told BBC Gloucestershire.
"He questioned my integrity in the first half. It was completely out of order, completely wrong."
Yates continued: "I fell for the old one-two. Their manager is incessant and I've held back a number of times and said what a good bloke he is.
"There's a lot of people who don't like him in our league, there's a lot of people who don't like him in football, he does what he does, he riles people and I fell for it.
"I'm not going to tell you what he said - he knows what he said - and he got it completely wrong.
"We went 4-1 down and he had another snipe at me. I'm gracious in the defeat - that's what being a proper man is about. I said 'I don't think you were when they played at Whaddon Road'.
"I think the fourth official had enough. There was no swearing but he got under my skin. He didn't send me off, he just asked me to go to the stands, but it was warmer there."
Cheltenham took the lead early on against their promotion rivals but Yates admits they were undone by a better side, who now sit above them in the league on goal difference.
"We got beat by a very good team," he added. "The conditions suited the way they played and the first half they were excellent, they were as good as we've seen.
"They asked a lot of questions of us and did what they do well. I've got no complaints, circumstances didn't go for us.
"The pitch was bone hard, I'm not making excuses or sour grapes or anything like that, we got beaten and we'll move on quickly. I think we just better forget it."