Tom Heaton 'deserves' Carling Cup final start, says rival Marshall
Last updated on .From the section Football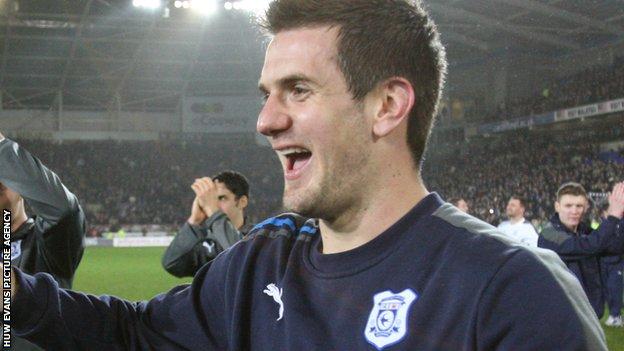 Goalkeeper David Marshall expects rival Tom Heaton to be between the posts when Cardiff City face Liverpool in the Carling Cup final.
While Marshall has been Cardiff's first choice in the Championship, Heaton has featured in the Carling Cup run.
And Marshall says Heaton, the semi-final penalty shoot-out hero, deserves to play at Wembley on 26 February.
"I'd expect Tom to play in the final. I'd be surprised if he didn't," said Marshall.
Scotland international Marshall has started in all but one of Cardiff's 29 league games so far this season, while Heaton has been restricted to cup duties.
Ex-Manchester United trainee Heaton saved two penalties as Cardiff secured their Wembley place with a semi-final shoot-out win over Crystal Palace.
"Obviously you want to play at Wembley [and] you want to play in cup finals, it's what you're in the game for," added Marshall.
"Tom's played his part in getting us there and deserves it. He's done great the whole tournament.
"The gaffer [Malky Mackay] chose me for the first league game of the season and he's stuck by me.
"In the cups Tom has played pretty much them all apart from the Leicester game when he was injured.
"I fully expected Tom to play in the semi-final and obviously he's done great to get us to the final. I think he deserves the final, definitely."
Before their date at Wembley against Liverpool on 26 February, Cardiff face three Championship games against teams in the lower half of the table.
They travel to Leicester on Saturday and then face Peterborough and Ipswich, hoping to hit back after losing for only the third time at home this season.
"It was a disappointing defeat," said Marshall of Saturday's 1-3 defeat to Blackpool.
"We can take defeat, we've had a few this season. But I think it was the manner in which we lost the game.
"We never really started well and never at any point did we look like playing well.
"Although we were 1-0 up with 15 minutes to go it was disappointing to lose the game.
"I don't think we can complain too much in terms of how the game went because Blackpool were the better team.
"But to put it in perspective I think we've done really well so far this season.
"We're still two points off automatic [promotion] and I think we've got more home games coming up than away games for the remainder of the season.
"We're looking to make our home games count and I think we'll set up away from home to get points."
Cardiff's fifth league loss of the season and leaves them fourth in the table, six points behind leaders West Ham.
But Marshall denies the upcoming Wembley date is proving to be a distraction and says promotion to the Premier League remains the priority.
"All the players would swap the Carling Cup final to get promoted," he said. "The biggest games for us are in the league.
"The Carling Cup game is obviously huge as well. It's a great day out for the club and the supporters. Hopefully we can go there [Wembley] and lift the trophy.
"But the most important thing as we set about at the start of the season was try and get to the Premiership. We're not going to do that through the Carling Cup."