Statistics show Capello was one of the best for England
By Alistair Magowan
BBC Sport
Last updated on .From the section Football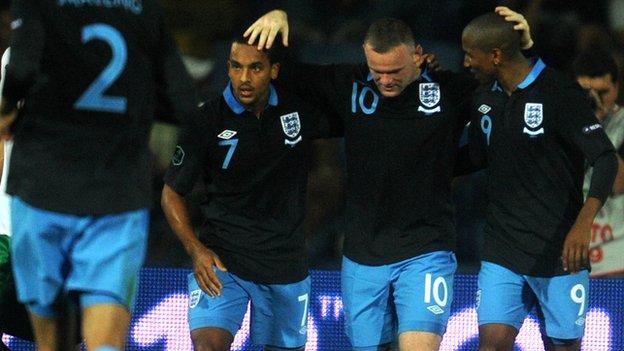 The Football Association's stock response to any criticism of appointing Fabio Capello in December 2007 was "you cannot argue with his CV".
And it was true the former Real Madrid, Juventus, Roma and AC Milan boss came into the job complete with a glittering career that boasted nine top-flight titles in two countries and a European Cup.
Even when assessing his four years in charge of England, the fact he tops the list of previous managers shows that when it comes to results, the Italian's record stood up to the closest scrutiny and England's most successful coach has now departed.
He excelled in enabling England to qualify for major tournaments, but the statistics cannot mask England's abject display at the 2010 World Cup, when they struggled through the group stage before being soundly beaten 4-1 by Germany in the last 16.
After the excesses allowed by previous boss Steve McClaren, when England failed to qualify for Euro 2008, Capello was the safe option that restored the team to the top of their World Cup and European Championship qualifying tables - and with it the hope of a major championship win since the sole World Cup glory in 1966.
But despite the 65-year-old's undoubted credentials, he still found the part-time nature of international football a new experience.
There were other issues, too, such as the rigidness of his initial formation where packed opposition midfields were able to pass around his team, and the fear factor the team felt while performing at Wembley.
Then there was the issue of the captaincy, a problem which eventually led to his resignation.
At the beginning his attitude to the armband was a refreshing one as he seemed to test the merits of Rio Ferdinand, Steven Gerrard and John Terry by swapping it between them in his first few fixtures. This added to a new-found competition among the squad.
Having finally chosen Terry as his first-choice skipper, Capello appeared to have the golden touch when he selected Theo Walcott to face Croatia and the Arsenal winger scored a hat-trick as England earned a 4-1 win in Zagreb which was the catalyst for their passage to South Africa.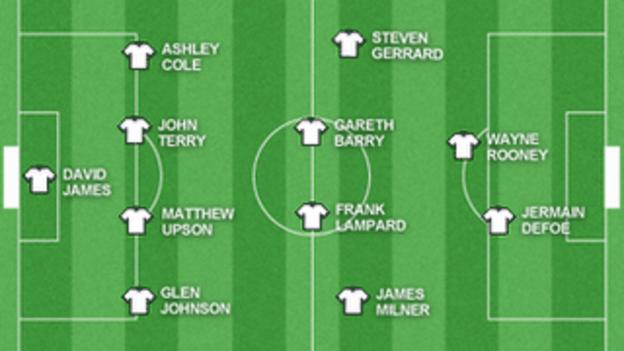 A defeat by Ukraine was the only one of a stellar qualifying campaign in which Wayne Rooney was in fine form, Emile Heskey played his part and Gareth Barry restored an equilibrium to the midfield which had been lacking under the previous manager.
But all that came to a crashing end in South Africa. Regardless of Terry's off-field antics or Rooney's ankle injury, England were slugglish where they were previously slick.
Against the United States, Algeria and Slovenia, England did not have the energy to press high up the pitch, and a 4-4-2 formation made it difficult to find space against midfields which had two layers.
Then there was the crushing second-round defeat by Germany which led to a unprecedented amount of criticism of England and the English game.
In the aftermath, Capello repeated the excuses of his predecessors. His team were too tired after a energy-sapping Premier League season.
Nonetheless, the sheen and authority which surrounded him had begun to crack, though there were signs that he had changed his hard-line management approach.
Two early wins in the Euro 2012 qualifiers restored some level of confidence, but a home draw with Montenegro and a defeat by France reminded England of their status in world football.
The rest of the campaign did not reach the heights of the previous one, though there were flickers that the team was beginning to evolve.
Jack Wilshere, 20, looked like a veteran once he began to play from the start and Scott Parker's introduction alongside the Arsenal midfielder or Barry allowed England to employ a front four who could interchange as they saw fit.
Importantly, Capello looked like he had finally caught up with his international opponents by employing a 4-2-3-1 formation.
Ashley Young seemed to again bring out the best in Rooney, Darren Bent was becoming a goalscorer of international class, while Gary Cahill gave England some insurance as Terry and Ferdinand suffered from spells of inconsistent form.
England showed that they could deal with the absence of Gerrard, their best player at the World Cup, and the debate about the goalkeeper was gone with Joe Hart a steady influence between the posts for England and Manchester City.
The hope for the European Championship was that with Wilshere and Gerrard returning from injury and Rooney devoid of the problems which plagued him last season for Manchester United, England could at least improve on their efforts in South Africa.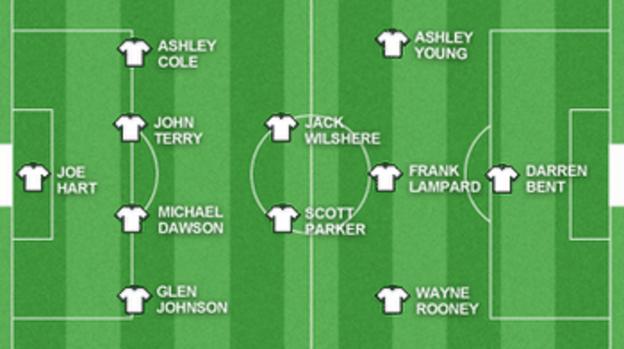 That optimism suffered a jolt when Rooney was banned for England's first two games in Poland and Ukraine.
And in the end, events away from the pitch appeared to have conspired against Capello with some observers citing the departure of the Italian's assistant Franco Baldini as crucial.
He was the communicator between Capello and his employers and had he been in place, there are genuine questions as to whether the FA would have gone over Capello's head to strip Terry of the captaincy without at least consulting him.
FA chairman David Bernstein decided there were bigger issues at stake before speaking to the England manager, and with Capello's authority undermined it is left for England to navigate their journey towards an opening Euro 2012 fixture against France on 11 June.
So it is there in black and white that whoever succeeds Capello has a lot to live up to.
Many players and fellow managers are already tipping Tottenham boss Harry Redknapp as the natural successor, at the very least there is a clamour for the next boss to be English.
But it is certainly worth noting that Capello has outperformed his recent English predecessors quite comfortably.
In the meantime we will never know if the talented Capello could have learned his lessons from the World Cup and put them right this summer.