Brendan Rodgers signs new Swansea City deal
Last updated on .From the section Football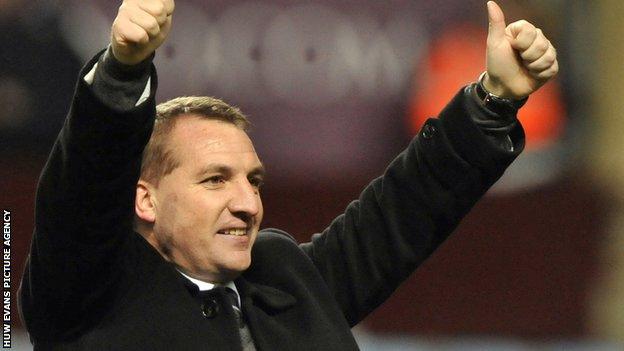 Swansea City manager Brendan Rodgers has signed a new three-and-a-half-year contract to keep him at the Liberty Stadium until the summer of 2015.
Since joining in July 2010, Rodgers had been on a rolling 12-month deal, but Swansea were keen on a long-term deal.
Rodgers guided the Swans to Premier League promotion in his first season and a string of impressive top-flight displays have followed.
"I'm delighted to sign the new deal," said 39-year-old Rodgers.
"I've been very pleased with my work over the last 19 months.
"I can only promise that over the next three and a half years I will continue to fight for the club and its people to help us become a sustainable Premier League club.
"I very much appreciate what Swansea as a city, a club and supporters have given me and my family over the last 19 months, so signing the new contract was one of the easiest decisions of my life.
"My determination to bring more and continued success on and off the pitch is an on-going process.
"I couldn't have dreamt of things going much better when I came into the club. You are normally judged objectively over time, but I was aware that I needed to make an impact in a much shorter period.
"However, both the club and myself have grown hand in hand."
Rodgers, who turned down the chance to become Northern Ireland manager in December 2011, is one of the most coveted young managers in British football because of the style and success of his team on a low budget.
Swansea are currently 10th in their debut season in the Premier League, 10 points clear of the relegation zone with 14 games remaining.
Rodgers began his contract negotiations just days after Swansea's most impressive win since winning Premier League promotion, a stunning 3-2 triumph over Arsenal.
Rodgers replaced Paulo Sousa in the Swansea hotseat in July 2010 and enjoyed immediate success by reaching the Premier League in his first full season via the 2011 Championship play-offs, the Swans beating Reading 4-2 in the final.
Jenkins is pleased to secure of "one of the best young managers around" on a long-term deal, only days after admitting Rodgers will soon be targeted by the Premier League's leading clubs.
"We are under no illusions about the fact that we have got one of the best young managers around working for our club," Jenkins said.
"Brendan has shown what he is capable of over the last couple of seasons and what he has done for us has been very pleasing.
"He is fully behind and supports the philosophy of the club and how we want to work.
"His personality and immense qualities highlight the importance of finding the right person to work with us to take the club forward.
"He is very important to us and that's not going to change, so it was very, very important to get the contract sorted out."