Tottenham's Jermain Defoe fears Harry Redknapp exit
Last updated on .From the section Football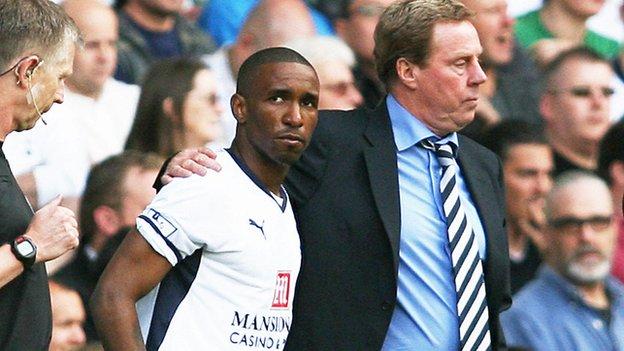 Tottenham striker Jermain Defoe says his club could be resigned to losing Harry Redknapp to England.
"Everyone wants Harry to be the next England manager," Defoe told BBC Sport.
"He'll never turn round and say 'no I don't want the job', because it's such a big job. We don't want Harry to leave because of what he's achieved."
Rio Ferdinand is one of a number of England players who has backed Redknapp to succeed Capello as manager of the national team.
Capello resigned just hours after Tottenham boss Redknapp was cleared of tax evasion charges.
"Harry Redknapp would be my choice by a distance," the Manchester United defender said on Twitter:
Wayne Rooney, former England striker Gary Lineker and Sunderland boss Martin O'Neill have also said they believe Redknapp should be given the job.
Prime Minister David Cameron also contributed to the debate, saying: "England now needs a new coach and a new captain and I hope we can get on with that and make the best of the opportunity this summer.
"I am sorry to see Fabio go. I think he was a good coach and a good man. I don't think he was right about the John Terry issue. You can't be captain with that question mark that needs to be answered."
But asked whether Redknapp should take over, he said: "The day when the Prime Minister picks the England coach will be a very bad day for football but I am sure we will find someone really good and I am sure that we will play well when the time comes."
Ferdinand, who played under Redknapp at West Ham, also said on Twitter: "I think we need an English manager now, we don't need anything else lost in translation."
His calls for Redknapp were also backed by his Old Trafford team-mate Wayne Rooney, who tweeted: "Got to be English to replace him. Harry Redknapp for me."
Recently appointed Sunderland boss O'Neill, who has been touted as a possible candidate for the England job in the past, believes Redknapp has earned the right to take charge of the national team.
Asked after his side's 2-1 FA Cup fourth-round replay victory at Middlesbrough whether the Tottenham boss would be his favourite, O'Neill said: "Yes, he would be.
"I think when Fabio was going to leave this summertime after the Euros anyway, that Harry would be favourite to take over.
"I think he should be and I think he deserves that opportunity as well. He should be the one.
"There has been a cry-out for an English manager now. His achievements at Tottenham in the last couple of years have been outstanding.
"He has got them through to the Champions League and they look as if they are going to get there again.
"He's done exceptionally well, and with the result in the court case, that's no longer hanging over him and that will be a great relief to him."
Match of the Day presenter and former England captain Lineker agrees with Rooney that the next manager of the national side should be English, and feels Redknapp - who has transformed Spurs into title contenders this season - could combine the role with his duties at White Hart Lane until this summer's European Championship.
"England should go for an English manager, all the other big nations in world football [have someone from their own country]," he said.
"I think Harry Redknapp is the obvious choice. he has done a brilliant job at Tottenham as well as terrific jobs elsewhere.
"He fits the bill, and the timing is perfect. On the day he was given a not guilty verdict. I think he will be the nation's choice. I think he can combine the two jobs until the end of the season, and I think managing England is a long-term ambition of his.
"I think it is perfect if they can make it work."