Tottenham's Benoit Assou-Ekotto on getting the 'job' done
By Leon Mann
BBC Sports News
Last updated on .From the section Football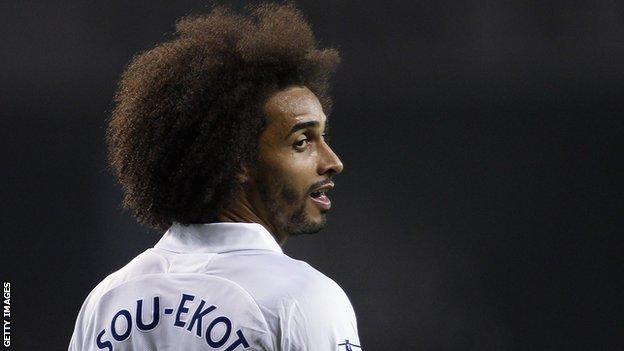 Benoit Assou-Ekotto picks the dictaphone up off the table, holds it out in front of him like a microphone and, to the tune of the Pussycat Dolls' "Don't Cha", sings: "Don't you wish your left back was B-A-E."
This extrovert outburst is the Tottenham defender's response to being asked whether the Spurs crowd have a song for him.
The 27-year-old breaks into fits of laughter before offering the dictaphone back.
Is this the same self-described mercenary who famously told an interviewer that football was 'just' a job?
"Football is just a job," insists Assou-Ekotto. "But a very good job!"
This season, for Assou-Ekotto, it looks a very good job indeed. His team are third in the Premier League and challenging for the title and the Cameroon international, who arrived at White Hart Lane from French side Lens in 2006, is a consistent candidate for employee of the month.
The man who said he moved for the money - and said players who pretended otherwise were liars - is a firm favourite with the Spurs supporters, whether that is in spite of or because of his fabled frankness.
Born in France but having chosen to play for Cameroon - with customary forthrightness he has said he had "no feeling" for the French national team - Assou-Ekotto has 17 international caps but, from a Spurs perspective, escaped Africa Cup of Nations duties this winter because Cameroon failed to qualify for the finals.
In the absence of international calls, he has already racked up 28 appearances for the north London side this season.
In the stands at White Hart Lane, he is known as "Disco Benny" having gained cult status for his "coolness".
He smiles as he explains what he thinks is the reason for his appeal to supporters.
"The reason I may be considered cool is because I don't take myself too seriously," he says. "This is why I can go on the pitch with my hair in a big afro.
"This is because my focus is giving 100% of myself on the pitch to make the fans happy."
If he is a crowd-pleaser, he is also an ambitious one.
"Spurs can win the title, like Manchester City, Manchester United and maybe like Chelsea," he says, adding that the worst scenario for Tottenham this season would be to finish just outside the Champions League places.
The mere suggestion has Assou-Ekotto shaking his head.
"It will be very bad. I prefer to play all the season in eight or ninth than be second, third or fourth and lose all the games towards the end of the season.
"I don't want to play Europa League anymore."
It is not just Spurs fans who are impressed, and it is not just Assou-Ekotto's attitude that is impressing them.
The Opta stats show a significant improvement in his game this season, particularly when it comes to getting forward. Fans of fantasy football will know his points tally is up there with the Premier League's best while - back in the non-virtual world - it is not beyond the realms of possibility that he could sneak into the Professional Footballers' Association team of the season.
"I would be surprised but personally I don't care," he says. "If I am in then I won't be at the awards, I'll be at home on my sofa."
He is reluctant to talk about direct comparisons with his fellow left-backs in the Premier League, insisting his focus is only on himself, and adding that other people's "judgements are rarely objective".
Even so, without naming names, he is critical of some of the defending he has seen in England.
"When a defender is caught out of position and running with the ball facing his own goal, the tendency is to just kick it out. It's actually encouraged. I find this very strange.
"As a professional footballer, you should be able to do more than just that. You should be able to have the mental capacity and skill to be able to stop, look, dribble and pass it rather than just kick it out.
"It is highly encouraged over here but it's something I've never been able to understand."
But he is chuckling again as he concedes that his manager at Spurs, Harry Redknapp, sometimes adopts a slightly more pragmatic approach to the art of defending.
"When I make some skill on the pitch I can hear his voice saying, 'Benny! Very careful!', and with a smile I say, 'OK', because I understand why he says that."
In fact, Assou-Ekotto's career has flourished under Redknapp. Having had his differences with both Martin Jol - the manager at the club when he arrived - and the Dutchman's successor Juande Ramos, the left-back now knows he has the full backing of his manager and this, he says, has given him the confidence to express himself on the pitch.
In his own unique way, he explains how it works.
"If I had to ask the manager to give me a game, then I know I would not play well because part of me would feel like I'm here because I asked for it.
"I only want to be there because the manager knows I can do the job. That's the only time I can give 100% - because I know I'm there by merit.
"So kissing up to the manager to get a game is not for me. This is maybe why the words that come out of my mouth are not always the ones people want to hear.
"It's not in my nature."