Scottish referees reap benefit of Spanish training camp
By John Barnes
BBC Scotland
Last updated on .From the section Football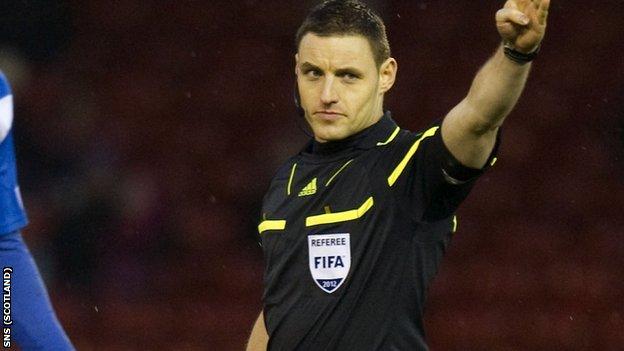 Referee Steven McLean says Scotland's top officials will reap the benefit of their week-long training camp in Spain.
The La Manga Sports Complex in Spain is host to 25 category one referees, 11 category two referees and the country's only Fifa female referee Morag Pirie.
McLean told BBC Scotland: "It's been an excellent team-building exercise for all of us because we don't have this opportunity too often."
This is the fifth year the four-day course has been held.
However the trip to the south of Spain has been anything but a holiday for the men and woman in black.
The Scottish Football Association's Head of Referee development John Fleming is supervising the event.
McLean combines his duties as a grade one official with that of Referee Recruitment and Education manager at the SFA. It is a job he shares with fellow ref Craig Thomson.
Speaking on BBC Radio Scotland's Sportsound programme McLean said: "It's been a very worthwhile exercise.
"We arrived on Monday and immediately had a training session. We had a double session on Tuesday and another on Wednesday. Then we had video analysis and meetings to discuss the season so far, including both positives and negatives.
"Unfortunately we don't have the luxury of being full-time like the players do. But we get this chance to basically be full-time for a week.
"It's great to take advantage of that and having hard sessions mixed with recovery sessions, which is what we have been doing.
"Graeme Jones and John McQuade our sports scientist and fitness consultant have been developing sessions which have been specifically tailored for that.
"It's been very good from a physiological and training view point. It's been excellent."
McLean admits the fitness levels of referees are now so important because of the pace of the modern game.
The 30 year-old whistler, who has been a Fifa official since 2010, said: "The players are getting fitter, faster and stronger and therefore the game develops at quite a pace now.
"So in order for us to get as many decisions correct we need to be in peak physical condition.
"The guys prepare very well and the fitness level as a group has improved enormously over the last five to 10 years and that can only benefit the game in Scotland and benefit us as referees and our performances.
"The more decisions we can get correct, especially in the final third and important decisions in the penalty area, you need to be in close proximity to incidents to get the best viewing angle to make the correct decisions and if that gives us more credibility then that is only a positive thing and that's what we're striving for."