Ashley Vincent set for Colchester United first-team return
Last updated on .From the section Football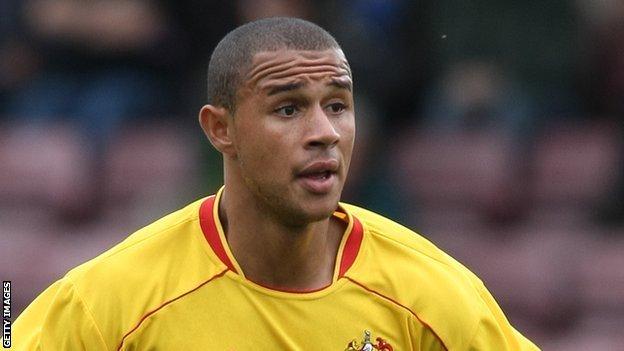 Colchester winger Ashley Vincent thinks he is on the verge of returning to the first team after a hamstring injury.
The 26-year-old suffered the problem in December and then damaged a different part of the same muscle when he was nearing full fitness.
"I did a little bit of training with the team on Tuesday," the former Cheltenham player told BBC Essex.
"I'm optimistic that hopefully I can get some more training done and I'm nearly there."
He continued: "I'm feeling positive at the moment. I've got my fingers crossed, I've worked hard. We've got to the stage where we've eradicated the problem from last time. Hopefully I can get out there sometime soon.
"From a selfish point of view, the weather is helping me. As games get cancelled, it gives me the opportunity to make up a little bit of time and there will be more games for me to get involved in.
"I'm confident that if I can get back out there, I can put in good performances. It's a matter of staying fit and getting myself going again.
"Last time I thought I was very close and the manager let me go out and train and I broke down so I think this time he's put the reins on me a bit and told me to be sensible.
"At the moment it feels really well but I said that last time. I'm running out of time, I want to be out playing games."
Vincent is out of contract this summer and has previously said he might return to the Midlands for family reasons.
"My main priority is to get back on the pitch and get playing," he said. "I'm not worried. I haven't spoken to the club and they've not spoken to me. At the moment that's fine with me.
"My family live in the Midlands. Next year is a big year, my little one is going to start nursery. There comes a point in time when I will have to be with my family day in day out. We'll have to see how it goes."