Harry Redknapp is the right man for England, says Alan Shearer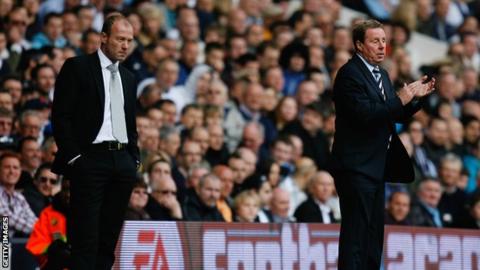 The Football Association should "move heaven and earth" to ensure Harry Redknapp becomes the next England manager, according to Alan Shearer.
"I think he is made for it," the former England captain, who scored 30 goals and won 63 caps between 1992 and 2000, told BBC Sport's Football Focus.
"He understands players and players understand him. That is a perfect mix. I'd move heaven and earth to get him."
Fabio Capello resigned from his job as England manager on Wednesday.
The Italian quit after publicly disagreeing with the FA's decision to strip John Terry of the England captaincy while the Chelsea defender awaits trial in July, accused of racially abusing QPR defender Anton Ferdinand. Terry has always strenuously denied the accusation, and has vowed to clear his name.
Shearer says he understands Capello's frustrations at the situation, but he also believes the FA's decision was correct.
"Having been England captain, particularly leading up to the tournament, you are asked to do all sorts with the media," he said.
"It would have been hard for John Terry to do that without people asking millions of questions."
With four months to go before Euro 2012, Shearer believes the next England manager should share the same nationality as his players for both practical and idealistic reasons.
FA chairman David Bernstein said on Thursday that the governing body's board would prefer an English or British manager to take over.
Tottenham manager Redknapp remains the bookmakers' favourite to succeed Capello after he was cleared of tax evasion charges on Wednesday.
The 64-year-old has already received the backing of several senior England players, including Wayne Rooney and Rio Ferdinand.
West Brom head coach Roy Hodgson is another Englishman touted for the role by many onlookers, while Newcastle's Alan Pardew and West Ham's Sam Allardyce have ruled themselves out of the running.
Other names put into the frame include Sunderland's Northern Ireland-born boss Martin O'Neill and Dutchman Guus Hiddink, whose impressive CV includes a spell as Chelsea caretaker manager in 2009.
However, Shearer pointed out that success does not necessarily follow a big reputation.
"Capello came in with a CV as good as anyone's," said the BBC Sport football pundit. "He's won European Cups, domestic leagues and we were all saying at the time if this guy can't bring success then who can?
"The vast majority of fans would say Harry Redknapp is the man. We all hope it works out but there are no guarantees in football."
He added: "Whoever the FA employ should be English - I have always said that."
"The England manager should be English, the Scotland manager should be Scottish, and likewise with Wales, Ireland and everyone else.
"If that is the case then an Englishman will come in and have a dossier on all the players anyway and know most players inside out."
Watch the full interview on Football Focus on BBC 1 on Saturday, 11 February from 1215 GMT.