Portsmouth braced for administration - Michael Appleton
Last updated on .From the section Football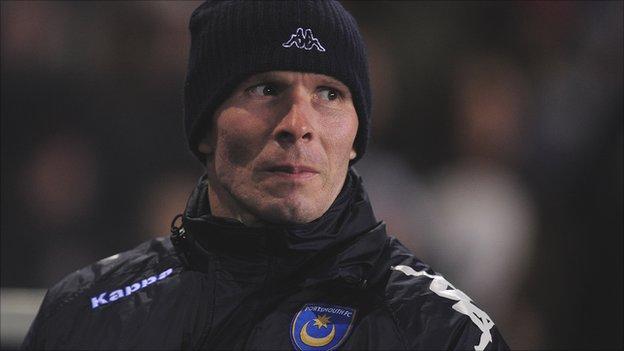 Portsmouth boss Michael Appleton says the club are braced for administration and has urged any potential buyer to "put their money where their mouth is".
The club were issued with a winding-up petition by HM Revenue and Customs on 3 January and will appear at the Royal Courts of Justice on 20 February.
Pompey's parent company, Convers Sports Initiatives, entered administration, forcing them to search for new owners.
"I am prepared for administration," Appleton told BBC Radio Solent.
Pompey's players are still waiting for their January wages and the club have had their bank account frozen as a result of the winding-up petition and have so far failed to gain a validation order lifting the block.
They are running out of time to find a new owner with administration and a subsequent 10-point penalty now a distinct possibility.
Appleton says the club have a number of interested parties and urged them to "put up or shut up".
"We are still looking for interested parties and for people to put their money where their mouth is," added Appleton.
"It's one thing being interested in taking over a football club and it is another having the money available to buy one. It's frustrating and the clock is ticking now as we have nine or 10 days before the hearing."
The Championship club are currently 17th in the table, although a 10-point penalty from the Football League for entering administration would put them level on points with Doncaster in the bottom three.
And Appleton admits Pompey are prepared for the worst.
"At some point something has got to give, somewhere along the line," he said.
"I wouldn't be doing my job correctly if I wasn't prepared for administration. I am well aware that if negotiations don't go to plan and there isn't money to pay the tax bill then that could be the situation.
"If it does, we will deal with it like we always do and there will be a plan put in place to keep the spirit high at the club and we will keep fighting right to the death."
Pompey's players were due to be paid 10 days ago, and Appleton has recommended that his squad contact the Professional Footballers' Association to understand exactly where they stand.
He also says he has urged his players to gain enough points to compensate for the possibility of administration and has vowed to remain positive in the face of adversity.
"The players have their own union, and it is up to them to speak to the PFA and see what their rights are," he said.
"Everyone seems to be here for the fight. It is such a delicate situation and if the dreaded does happen we need to make sure we have enough points in the bag should we get docked points and the players are aware of that.
"I am a human and there are times when I am a bit down about the situation but I make sure I don't do it in front of the players."