Exeter City boss Paul Tisdale discusses their financial plight
Last updated on .From the section Football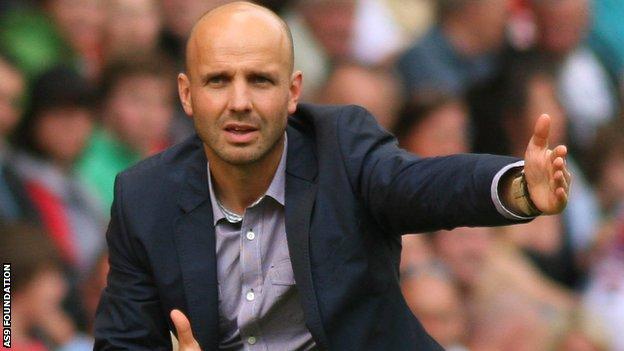 Exeter City manager Paul Tisdale says the club's financial position means he is unable to strengthen his squad with any loan signing.
The Grecians are two points above the League One drop zone and have not scored in more than six hours.
"Every single penny I can use I've used and I can't just fashion some money up from nowhere," Tisdale told BBC Devon.
"The reality of our situation is not new to us now, it's been this case every year."
Exeter have seen crowds drop by 20% compared to last season, with an average of just over 4,000 for most games at St James Park, and that has affected the budget available to Tisdale.
With the club owned by the Fans Trust there is no rich benefactor to bankroll the club.
"I know what restrictions we work under so it's not something I'm concerned about," he added.
"It's the nature of being a manager at Exeter City that we have to be very financially astute and we have to make sure that we don't go over budget.
"I don't want to bemoan the money or lack of money because in a way that belittles the playing squad that we have, and I've got a lot of respect for the players and think they do a very good job and I think they over-perform any way.
"They put a lot of effort in and I don't want it to be a situation where I'm criticising the playing squad."
But Tisdale says supporters have to be realistic about a club that he feels is punching way above its weight.
The club rose from the Conference to League One in just two years and are now competing in the same division as former Premier League sides Charlton Athletic, Sheffield United and Sheffield Wednesday.
They finished just a point off the play-off places last season but saw key players such as Ryan Harley, Matt Taylor and Jamie Cureton leave the club in the summer.
"Last year we did so well people expect it to be the norm, well it's not the norm unfortunately," he continued.
"It's going to be a big, big effort to stay where we are.
"It was tough last year but we had a side that was at the crest of a wave.
"That cycle came to an end last year, the value we had for our players because of contractual timing was extraordinary last year."
And Tisdale says it may take a long time for the club to have a similarly good squad with the budget he has to play with.
"You just can't conjure up that value overnight, you've got to start again and it takes five or six years to get that value for players.
"You either get to a point and hang on or you have to start the cycle again and our club have to decide if that cycle starts again and in what context, what the mandate is going forward.
"It's not a criticism of anybody, it's just the way it is.
"Our intention now is about staying in this league, we're not going to give up, we're going to continue to get better value from our players than our budget suggest," he concluded.