Boss Brendan Rodgers committed to Swansea City
Last updated on .From the section Football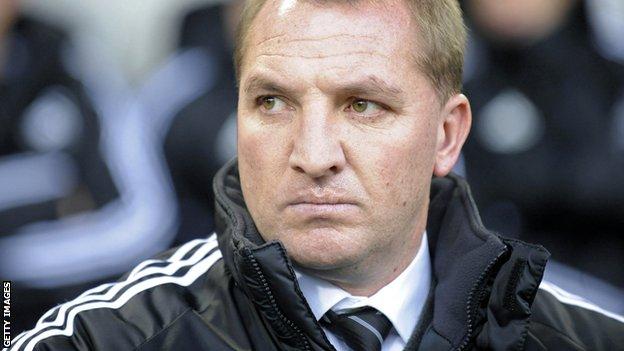 Swansea City manager Brendan Rodgers has played down speculation linking him with a potential Tottenham vacancy.
Having signed a new three-and-a-half-year deal, Rodgers has reiterated his desire to stay at the Liberty Stadium.
"If speculation comes with me doing the job well then I am flattered and honoured," he said.
"It's natural. If you do well in any business or any sport, there's always going to be speculation. But that's really all it is," he said
"It's incredible, you sign a new contract and the day you sign it you are linked with moving away but I am very happy here and my family love it in Wales.
"However, this is the place I want to be. Hopefully I can be here for the duration of my contract - that's my aim."
The former Watford and Reading boss had been on a rolling 12-month contract but Swansea were keen on a long-term deal after he guiding them to the Premier League.
And the 39-year-old has signed a new three-and-a-half-year contract to keep him at the Liberty Stadium until the summer of 2015.
"In my eyes I'm at a top club," said Rodgers. "I learnt my lesson in my career which I really think was a defining moment for me.
"The most important thing for me is to have peace and satisfaction in my job, I don't know where else other than Swansea that I can be as happy as I am.
"It's a club that allows me to work how I want to work and obviously the philosophy which I coach.
"I'm not too sure there are many clubs where I'd have the freedom to do that. I'm very ambitious for Swansea to do well. I want the players to do well as well as myself.
"We have a great opportunity here over the next few years. I wanted to make sure that the players we're signed here before anything.
"The players that got us up last year were absolutely magnificent and then obviously once we've done that, then we could sit down and secure myself.
"Now that we've done that I feel that hopefully over the next two, three years we can really keep moving forward as a club."
With a new contract signed, Rodgers is focused on Saturday's meeting with Norwich, another side who won promotion to the Premier League last season.
The Canaries are currently one place and two points above Swansea in ninth and won 3-1 when the sides met at Carrow Road last October.
"We have had some terrific games against Norwich and we know it will be competitive," said Rodgers.
"But every game has been that way this year, whether it has been against Norwich, West Brom or Tottenham, although there is the extra motivation that whoever wins will finish the game above the other side.
"Paul Lambert has done a fantastic job there and it should be a fantastic game and another good demonstration of how well the two teams have been doing."