The search is on for a song for Inverness Caledonian Thistle

By Chick Young
BBC Scotland football pundit
Last updated on .From the section Football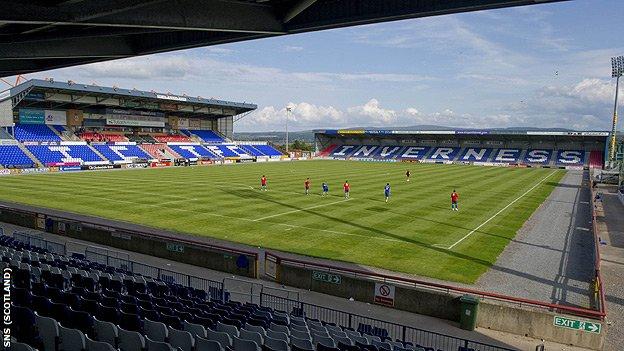 They need a club song at Inverness. Currently the only candidate at Caley Thistle's stadium is that old Paul Simon favourite, the Sound of Silence.
Once upon a time they used to say that the Aberdeen crowd were so quiet you could hear them unwrapping the sweetie papers (in their pockets, presumably) but in fairness the modern-day Dons fans know how to give it laldy.
But in Inverness the lending library atmosphere is so genteel you can hear the waves lapping on the shores of the Firth.
Don't take my word for it. Terry Butcher has revealed that they actually got complaints from some fans that the supporters were making too much noise. Aye, right.
So the manager has endorsed my campaign, launched here and now, to find a song for Inverness Caledonian Thistle.
All of this was given birth as I attended a league sponsor's function for Scottish Premier League in the Highland capital where fans were complaining about the moon-like atmosphere. I asked if there was a club song.
There is, apparently. A wee genteel ditty: "We are Inverness, we have a castle and a bridge…"
Just the kind of rousing anthem to strike fear into the visiting Old Firm. Not.
There are many reasons why ICT do not embrace a stirring melody, one of them to do with the age of the club, which in reality is still living in its infancy.
True, but in which case you would have thought that they would have been able to muster a nursery rhyme.
So the hunt is on to find a great anthem like the Hearts song or "Hail Hail" or "Sunshine on Leith" or "Every Other Saturday" or "the Northern Lights".
The obvious candidate is, of course, "Supercalifragilisticexpialidocious", in tribute to the night they humbled Celtic, and there is nothing wrong with hi-jacking a popular tune.
The Old Firm have been doing it for years, plundering the charts and musicals alike, ignoring the original sentiments of the writers.
So there is absolutely no reason why ICT can't pillage the current list of hits or turn back time - like Dundee United - and adopt songs like "Love is in the Air" and "Beautiful Sunday".
Singing songs at football matches took a wee hit for a while and of course there are some which should never be sung at all: I cannot think for a heartbeat that anyone at ICT would embrace any sectarian nonsense.
But all-seated stadia killed it off for a while. No-one sings sitting down, apart from Val Doonican.
So the search is on: a song for Inverness… and it should be stalked with the enthusiasm of Eurovision. Let not a chord remain untried nor a musical score remain unturned.
And even if your name is McCartney or Rice or Elton, don't be shy. This is an emergency.
The stadium needs to be transformed from an oasis of football calm to a rousing theatre of Highland voices singing a hymn in praise of Butcher's boys.
Suggestions will be welcome at the club and at BBC Scotland's Sportsound programme email: sportsound@bbc.co.uk.
Rousing is good. Mentions of castles and bridges should be used sparingly.