Harry Redknapp 'overwhelmed' by England players' support, says son
Last updated on .From the section Football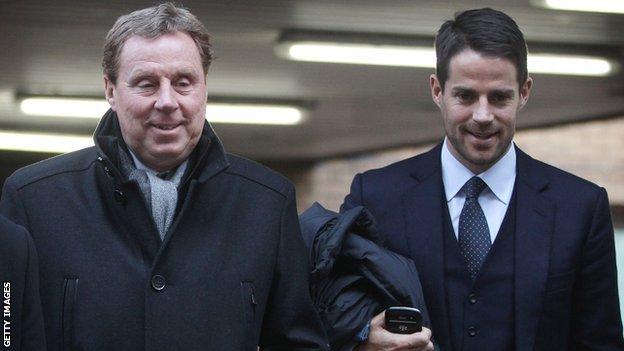 Jamie Redknapp says his father, Spurs boss Harry, is "overwhelmed" by the calls urging him to manage England.
"He is overwhelmed by the positive messages from England players such as Wayne Rooney and Rio Ferdinand," said Jamie Redknapp, now a pundit for Sky.
Writing in the Daily Mail, Redknapp said Fabio Capello's resignation as England manager surprised his father.
"He said, 'no chance it will get to that with Capello, is there?'," said Redknapp Jr.
Jamie Redknapp also said his father's recent trial for tax evasion and the five-year investigation preceding it had made the Tottenham manager ill with worry.
"He has been anxious and angry - worrying about my mum, worrying what would happen to her if he ended up with a guilty verdict," wrote Jamie, who was with his father in court throughout the trial.
"The only time that I can compare to the feeling of relief and joy of my dad's unanimous [not guilty] verdict was when my two boys were born," the former Liverpool, Spurs and England midfielder added.
"My family has gone from one storm to another, but I prefer this storm."
Redknapp Jr also confirmed that the FA had not offered the England job to his father and said it was not a foregone conclusion his father would accept it if they were to do so, because he enjoys working at Tottenham and with chairman Daniel Levy.
"Even if they have their moments, Dad likes working for him," wrote Jamie. "But Daniel Levy gave him a job he loves. Together they have made Spurs stronger."
Redknapp also believes the FA should resist any desire to appoint a foreign manager, despite the strides made by foreign club managers in the Premier League.
"I think the next England manager should be English, but I understand what the continental managers have brought to our football," he said.
"Arsene Wenger, Jose Mourinho, Carlo Ancelotti, Roberto Mancini are richly talented individuals but they can speak good English and their players understand them."