Kevin Graham named new Guernsey football manager
Last updated on .From the section Football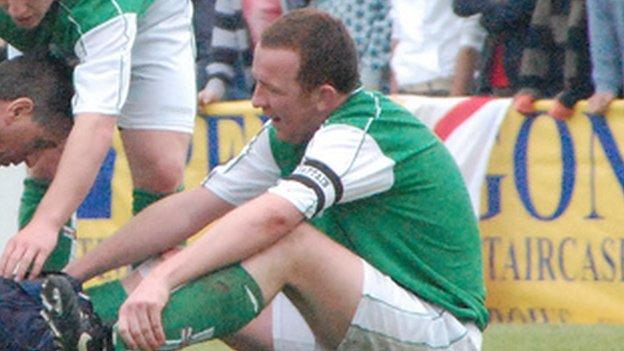 The Guernsey FA has appointed former island skipper Kevin Graham as the new boss of the island team.
Graham will be in charge of the side that plays in the Muratti, Island Games and the FA Inter-League Cup.
He replaces Tony Vance who quit the role last year after a disagreement with the GFA over squad selections.
Graham will be assisted by former English Universities coach Steve Sharman and ex-Guernsey Muratti defender Mark Coutanche.
"It means a great deal, I'm very proud, I've got very strong feelings for the role, for the passion that every Guernseyman feels on Muratti day," Graham told BBC Guernsey.
"I'm very proud and I feel very privileged to be working with a very talented group of individuals."
GFA director of football James Blower said: "Kevin has played football in the higher echelons of non-league football and was an outstanding player.
"He is highly respected within the game both here and in the UK and I am delighted to have secured his services as Island manager."
Graham played in two Murattis for Guernsey, as well as for St Martin's, and is in charge initially for next month's semi-final in Alderney and the final against Jersey if Guernsey get there.
He no longer lives on the island anymore as he works for telecom firm JT, but says it will not stop him doing the job.
"I'm in the Channel Islands most weeks, I get to watch a bit of football over here and I get to watch Guernsey FC in the UK and in terms of logistics we've got a plan in place for preparations," said Graham.
He is not the first island team manager to live outside of the island as Jersey appointed former Chelsea player Ron 'Chopper' Harris as boss in 2001 and he went on to lead the team to victory in the Muratti to following year.
Graham's opportunity arose after Vance quit the role following a falling out with the Guernsey FA over a ruling which meant that if players refused to play in the semi-final in Alderney, they would not be eligible for the final against Jersey.
The match clashes with a Guernsey FC game meaning players would have to choose who to represent.
Graham would not be drawn on the issue, but said he had a plan in place.
"I intend to work closely with all the key people in Guernsey football and that involves the people in Guernsey FC," he added.
"I don't want to get drawn into the politics around the situation, all I'll say is that I don't expect there to be any issues on that front."